Taskforce meets to drive forward closer UK-UAE relations
The UK-UAE Taskforce met for the third time at the Foreign and Commonwealth Office in London on 31 January.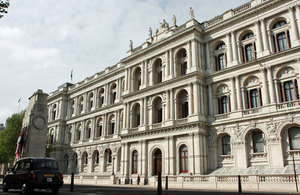 The delegations, led by Alistair Burt MP, UK Minister for the Middle East and South Asia, and His Excellency Dr Anwar Gargash, the UAE Minister of State for Foreign Affairs, discussed a range of issues, including trade and investment; consular relations; international development; and foreign policy, with a focus on Afghanistan, Egypt, and Yemen.
The Taskforce agreed that:
A UK-UAE Business Forum, bringing together top level private sector professionals will meet for the first time in April.
The UK-UAE Joint Economic Committee, set up to drive bilateral trade and investment, will meet again in April.
They would form a Joint Consular Committee to help increase tourism, institutional co-operation, and friendship between the countries.
They would host a joint seminar on shared international development priorities.
The Taskforce also welcomed the UAE's proposal to host an international conference on piracy in April, for which the UK offered its active participation and support.
Alistair Burt said
"This meeting affirmed the deepening relationship between the UK and United Arab Emirates, and reflects the British Government's commitment, through the Gulf Initiative, to strengthening our connections with all our Gulf partners."
Published 2 February 2011