News story
Task Force on Banking & Access to Finance meets for second time
Ministers from the UK government and NI executive met again in Westminster to discuss issues around bank lending and support for NI business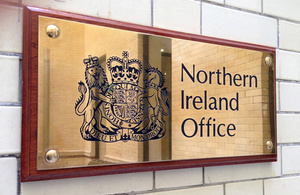 The Joint Ministerial Task Force on Banking and Access to Finance was established as part the Economic Pact, to promote lending and help Northern Ireland businesses access the finance they need to grow and expand.
The Task Force brings together Ministers from the UK government and Northern Ireland executive. Today's second meeting in Westminster was chaired by the Secretary of State for Northern Ireland, Theresa Villiers. She was joined by UK Business Minister Matt Hancock; Treasury Minister Sajid Javid; NI Trade & Enterprise Minister Arlene Foster and NI Finance Minister Simon Hamilton.
The group discussed the effectiveness of the current UK and NI finance schemes and the role that the British Business Bank can play in bringing additional finance to the Northern Ireland economy.
The Task Force also welcomed the British Bankers Association to the meeting to discuss the current lending environment in Northern Ireland.
The Task Force's terms of reference are to:
Ensure that Northern Ireland is taken into account as the government considers the way forward on banking issues more generally.
Redouble efforts to promote lending to businesses by banks and other finance providers
Examine whether tailored support is required for Northern Ireland's banks and how we can maximise support for businesses in Northern Ireland.
Examine how best to engage with the Irish government to make sure that their support for the Irish banking system takes full account of the operation of Irish-owned banks in Northern Ireland
Introduce new mechanisms to ensure that UK-wide banking and access to finance measures implemented by the government have the maximum possible impact in Northern Ireland, including by monitoring progress against the commitments relating to specific banking/finance schemes highlighted in the Building a Prosperous and United Community package.
Consider how the government and executive can best respond to the issues highlighted in the Access to Finance report recently published by the executive's independent Economic Advisory Group, and any relevant recommendations following from the Northern Ireland Affairs Committee's inquiry into the structure of banking in NI
Published 26 March 2014