World news story
Tanzania Meteorological Agency and Met Office work in partnership to enhance Tanzania weather and climate services
Three new UK government funded projects have been launched at the British High Commission, Dar es Salaam.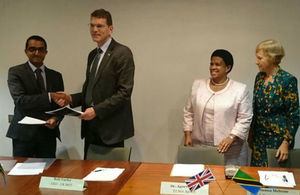 These projects demonstrate the strengthening partnership between the Tanzania Meteorological Agency (TMA) and the Met Office, the United Kingdom's National Weather Service.
The projects, supported by UK aid from the UK's Department for International Development (DFID) and the Foreign Commonwealth Office (FCO), are:
FCO Prosperity Fund Energy and Extractives Project
The Foreign and Commonwealth Office (FCO) Africa Prosperity Fund project explores development of services for renewable energy and oil and gas industries in East Africa. Working with a range of renewable energy and oil and gas companies active in East Africa, it aims to better understand how weather and climate affects their operations. Accurate weather and climate services are necessary to enable the energy industry to make investment decisions, manage risk and effectively run their operations. The changing climate is also likely to increase pressures on energy production, an issue already evident for hydropower production in Tanzania due to low rainfall, and could affect the design of oil and gas infrastructure in the region.
DFID TMA Capacity Development Phase 2 Project
The DFID funded capacity development project enables TMA to support citizens of Tanzania in making climate-smart decisions based on relevant, reliable and accessible weather and climate information. The project has three main components, user engagement, data rescue and service delivery. The user engagement will engage with sectors most vulnerable to severe weather, such as agriculture and health. The data rescue activity will continue work underway to rescue and digitise TMA's paper archives. The service delivery activity will develop products based on the two other activities and ensure they reach users to allow them to make climate-smart decisions.
DFID Weather Information SERvices in Africa (WISER)
The pan-African DFID WISER programme aims to improve the creation and use of weather and climate information across Sub-Saharan Africa. In Tanzania, WISER is supporting the TMA and the Met Office working together on a Multi Hazard Early Warning Service. The development and delivery of the pilot Multi Hazard Early Warning Service for the coastal regions in Tanzania aims to reduce the impacts of extreme weather, and enhance the role, capacity and reputation of the TMA.
The combination of TMA's local expertise and access to historical data, and the Met Office's world-class weather and climate science and operational service delivery across several industries, will ensure Tanzanian public and industries benefit from high quality weather and climate information for decision making.
Published 5 February 2016