World news story
Tanzania marks Remembrance
Remembrance Day is a memorial day observed in Commonwealth countries since the end of the First World War to remember the members of their armed forces who died in the line of duty.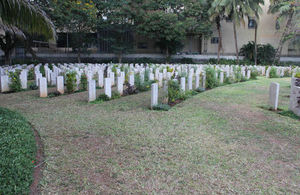 Remembrance Day is observed on 11 November in most countries to recall the end of hostilities of World War I on that date in 1918. Hostilities formally ended at the 11th hour of the 11th day of the 11th month. This year's Remembrance Day marks 99 years since the end of the First World War.
How we remember
Remembrance Sunday, which falls on 12 November in 2017, is a day for the nation to remember and honour those who have sacrificed themselves to secure and protect our freedom.
To mark this day, The British High Commission and the Embassy of the Federal Republic of Germany will jointly hold a Service of Remembrance, at the Commonwealth War Graves Cemetery and German War Memorial in Dar es Salaam on Sunday 12th November 2017 from 8:00am.
The Remembrance Sunday service is open to the public.
The poppy is a symbol of Remembrance that was inspired by John McCrae's poem In Flanders Fields. Poppies are available in the following areas:
Southern Sun Hotel, Hamburg Ave

Tanzania Legion Club

IST Upper School, Msasani Peninsula

ZanAir - Zanzibar

IST Clinic reception, Msasani Peninsula

Dar es SalaamCommonwealth War Graves Cemetery, Makumbusho

George and Dragon, Msasani Peninsula

British Council, Ohio Street

Little Theatre, Oysterbay

Yacht Club, Msasani Peninsula
Published 1 November 2017