Tamme MD to join Female Founder trade mission to the UK
Founder of Tamme, Genevieve George, joins the UK Department for International Trade on Startup Catalyst's Female Founders Mission to the UK.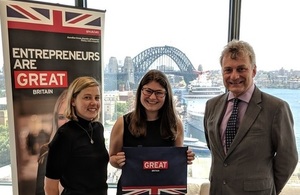 This November, Startup Catalyst will lead a mission of 20 Female Founders to explore the UK's tech ecosystem and network with some of the world's leading Startup mentors, investors and entrepreneurs.
The UK's Department for International Trade (DIT) is excited to announce that Genevieve George, the founder of data analytics tool and marketing platform Tamme, and Forbes 30 under 30 Asia 2016 winner, as the successful applicant for a supported place on the UK mission. Genevieve was selected from a strong field of 42 entries.
With expanding globally very much on Tamme's agenda, Founder Genevieve George said:
I am very excited to join the UK Department for International Trade and Startup Catalyst on this mission to London. Over the last couple of months Tamme has signed recurring ad spend across Australia, the UK, the UAE, and South East Asia.

This trip, and the support provided by both organisations, will act as a catalyst to accelerate our UK growth and establish a foothold for our European expansion.
Consul-General to New South Wales and Director-General of Trade and Investment for the UK Department for International Trade, Michael Ward, said:
We are delighted to have received so many high calibre applications for this important UK mission. It underscores the depth of entrepreneurial female talent in Australia with the capability to take their companies global.

Unfortunately we can only offer one place and I'd like to congratulate Genevieve George, founder of Tamme on her selection to join the UK mission.

We look forward to not only supporting Genevieve, but all applicants on their plans to set up in the UK.
Genevieve will receive access to the full mission programme to learn, identify opportunities and establish networks that will assist with her expansion into the world leading UK tech economy.
If you're looking to expand into the attractive UK tech space, contact DIT's Head of Investment, Tess Fowler at Tess.fowler@mobile.trade.gov.uk.
For any further media enquiries, contact Matt Kirk, PR and Communications Officer at the Department for International Trade on Matthew.Kirk@mobile.trade.gov.uk.
Published 6 November 2017