News story
Talking about domestic abuse
Minister for Preventing Abuse and Exploitation visited Essex today to discuss work in Harlow to tackle domestic abuse.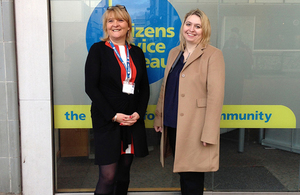 Karen Bradley talked to staff and volunteers at Harlow's Citizens Advice about their campaigns to encourage both victims and witnesses to talk about these crimes.
The Harlow branch is taking part in the national Citizens Advice 'Talk About Abuse' campaign, launched in autumn 2015, and the Minister heard about the progress that has since been made.
'Talk About Abuse' is targeted at bystanders of domestic abuse and helps them to spot the signs, respond appropriately and give support to victims.
Friends and family members are often best placed to intervene in abusive relationships, and Citizens Advice has produced guidance about how they can practically and safely help victims.
Citizens Advice Harlow is also encouraging victims of domestic abuse to talk about their experience.
Staff and volunteers are trained to identify instances of domestic abuse during face-to-face chats when people seek the service's help, often for issues that are not directly connected to the abusive situation they might face.
This offers them a safe place to discuss the abuse and to get referred to specialist support.
Minister for Preventing Abuse and Exploitation Karen Bradley said:
While we are encouraged that more and more victims are reporting domestic abuse to the police, too many are still suffering in silence.

I was really encouraged to hear that Citizen Advice's work in Harlow is helping to give victims the confidence to report these terrible crimes, so they can get the support they need.

It is vital that we all work together to tackle domestic abuse – this includes Government, the police, local authorities and specialist services.
Chief Executive of Citizens Advice Gillian Guy said:
Many victims of domestic abuse are suffering behind closed doors.

Through our 'Talk About Abuse' campaign, we are helping friends and family to spot the signs of abuse and encourage victims to contact specialist services. More people are now reporting abuse including a 24 per cent increase in the people Citizens Advice has helped.

The Government has taken some important steps to tackle hidden forms of abuse like controlling behaviour and we hope that their support for our campaign ensures more people can get the right help.
AJ Sanger from Harlow Citizens Advice said:
It was a really good opportunity to welcome the Minister to Harlow Citizens Advice to show her the important work we do to help victims of domestic abuse.

Sometimes people struggling with money, benefits and other problems also live in abusive relationships and local Citizens Advice like ours in Harlow can play a really important role helping those people to get specialist support.
Published 8 January 2016