Press release
Taking stock of fish on the Nene
Work will begin next week to count the number and type of fish in a stretch of the river Nene.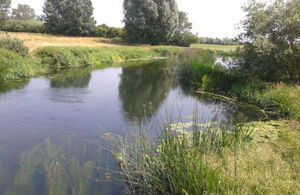 Funded with income from rod licence sales, the Environment Agency will be carrying out surveys between Clifford Hill and Ferry Meadows from Monday 15 June until Wednesday 19 July.
Fisheries experts will be taking note of the amount of fish, as well as their size, species and age. The results are a vital indicator of the river's quality under the European Water Framework Directive, and can reveal changes to the habitat.
Findings can also be used to help shape local projects to improve the environment for wildlife, visitors and anglers alike.
Environmental monitoring officer Andy Beal said:
Counting fish in a river sounds like a mammoth task, but it's actually relatively simple. We put out two stretches of net 100 metres apart and take two hauls of the fish swimming between.
We then measure them, check their species, and count their scales to determine their age – similar to counting the rings on a tree – before letting them go again.
It's a process that's repeated several times throughout the year, giving us consistent and accurate results that show how healthy the water is – and how happy the fish are!
Boaters using the river while the surveys are taking place are asked to look out for signs, navigate carefully, and be aware that there may be slight delays while the nets are in the river.
Andy added:
I'd like to thank people in advance for their patience while we carry out this essential work. We'll do our best to keep any delays to a minimum and apologise for any inconvenience caused.
For more information, contact the Environment Agency on 03708 506 506 between 9am and 5pm, and ask for the Anglian Waterways team.
Published 3 June 2015