Press release
Taking Poole harbour into the classroom
More than 30 teachers and people involved in education will be gathering at Kingston Maurward House at Dorchester on May 23 to find out more about how our local coastline has changed, is managed and how Poole Harbour can be used to inspire learning in primary school classrooms.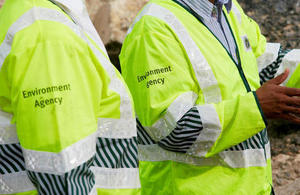 The free teacher training day has been developed and paid for by the Living with a Changing Coast (LiCCo) project, with the involvement of the Environment Agency and the National Trust.
The storms of this winter highlighted the scale of damage and disruption that can be wreaked on the coastline.
Scientists predict that climate change will bring more frequent and intense storms as the atmosphere warms up and is able to hold more energy.
It is time to do more to make coastal communities more aware of how the coast changes naturally and how tidal flood risk may increase as a result of climate change and sea level rise.
By increasing understanding of these issues among 7-16 year olds it can help to ensure that the next generation becomes more resilient and better able to cope with extreme weather.
The new schools resources use photos, presentations, film clips, data, old photos and even action songs to provide an inspiring way of learning that makes Poole Harbour special.
Lesson plans cover the complex natural processes at work, the different habitats found here, why people visit, how flooding is managed and how the coast has changed over time.
Kingston Maurward House is also hosting a secondary teacher training day on 27 June. Resources are also being developed for GCSE level. The response so far has been staggering with 170 teachers already registered to attend events in Dorset and Devon.
The free resources will be available after the training days as booklets, as DVDs or online. You can find out more at www.licco.eu/uncategorized/update-on-licco-schools-resources/
Ends
Notes for editors:
• Living with a Changing Coast (LiCCo) is a cross-channel project which works in the Exe Estuary, Poole Harbour (in Dorset) and 5 coastal areas in Normandy (France). • The Living with a Changing Coast (LiCCo) project engages with local coastal communities. It aims to increase awareness of coastal change (past, present and future) and how communities can become more resilient by being better prepared at an individual, community or business level. • More information on the Living with a Changing Coast (LiCCo) project, can be found at www.licco.eu
For more information please contact Lisa Pearce, Principal Engagement Officer at the LiCCo project on 07557 455323 or lisa.pearce@environment-agency.gov.uk
Published 14 May 2014