Taking action to help prevent balcony incidents abroad
There have been 13 incidents of young people falling from balconies so far this year, three cases resulted in death while others have been seriously injured.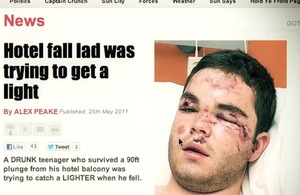 The Foreign Office and ABTA - The Travel Association, have joined forces on a campaign to help prevent balcony incidents among young people in popular holiday resorts.
In Majorca and Ibiza, for instance, two of UK's top tourist destinations, there have been 9 cases - already matching figures for 2011, despite only being half way through the season. Most incidents involve young people between the ages of 18 and 35 and whilst not always the case, alcohol often plays a part.
Paul Abrey, Consul in the Balearics, said: "We've already seen some tragic cases this summer which have had devastating consequences for the individuals and families concerned. This year there's been a particular spike early on in the holiday season with figures already matching last year's. Some people have fallen whilst climbing to a friend's apartment, others have simply lost their footing after a few too many drinks and a few have deliberately jumped off aiming for the pool below. It should go without saying these practices are extremely dangerous and can cost them their life or leave them permanently disabled. Many young people also arrive without travel insurance. The FCO can't pay medical bills and holidaymakers may end up paying out thousands for medical bills and flights back to the UK."
ABTA predicts around 3 million young holidaymakers will head overseas this summer with Spain, Greece and Turkey favourite destinations. Young people travelling out to resorts will be handed leaflets which include the story of Jake Evans, 18, from Liverpool, who narrowly survived a fall from a 7th floor balcony last year after a few too many drinks. Jake also tells his story in a video:
Balcony falls abroad - Jake's story
Download the ABTA/FCO leaflet to read 'Jake's Story' - PDF, 763KB
Nikki White ABTA Head of Destinations and Sustainability said "Each year too many young people are permanently injured or worse because they've tried to climb over or dive off their hotel balcony. ABTA, the Foreign Office and tourist authorities are all working together to help raise awareness of the dangers and prevent these incidents. The after-effects are often made even worse through holidaymakers travelling uninsured and parents having to raise large amounts of money to get their children home. Our advice aims to help holidaymakers to use their balconies safely and prevent more of these tragic and avoidable incidents."
Please note this press release was originally published 15th August 2012
Published 14 August 2012
Last updated 27 June 2013
+ show all updates
Please note this press release was originally published 15th August 2012

Added PDF link

Added image, fixed video link

This news article was converted to a news story