News story
Takeover Day 2011: blog
London students Naomi and Caprice 'took over' the Deputy Prime Minister's office as part of the Children's Commissioner's Takeover Day 2011.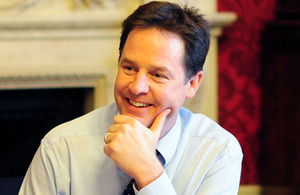 Here's what Naomi and Caprice had to say about their morning in the Deputy Prime Minister's office.
Naomi
We came to the Deputy Prime Minister's office for "Children's Commissioner's Takeover Day". We got a chance to meet members of the offices and found out a bit about their job roles and how their jobs help make the government run.
We helped the Deputy Prime Minister (Nick Clegg) prepare for his question time which he will be doing on Tuesday in the House of Commons. We also got a chance to ask him about young people and how they can be more involved in politics; he gave us really good advice of going to our local MP's surgeries which happen weekly as this would be a great way of getting our point of views across directly.
We also got the chance to talk to the communications team and a policy team and advised them on the best and effective ways they can communicate to young people and what we thought about connections.
Caprice
When we first arrived, we got a brief introduction from staff of what the day would consist of. During the course of the day we did a tour of the Cabinet office and were introduced to the various people who worked in different areas of the Cabinet office. We met people that kept Nick Clegg on task including his 'SpAds' (Special Advisors).
After meeting people that worked in the Cabinet Office and another brief tour - we were taken to see Nick Clegg to ask questions that we thought that he might be asked during "Deputy Prime Minister's Question Time" on Tuesday. We asked him a range of questions about student protests, jobs, media representation and university fees etc., to which we think he answered very well.
Listen to Naomi and Caprice on Audioboo.
Published 11 November 2011