World news story
Take another look at Spain
Spain is still a large, diverse economy, and one of the UK's main trade and investment partners.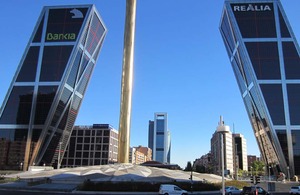 The news from Spain has not been good in recent times. Macroeconomic reporting in the UK stresses Spain's problems since the crisis. The truth is that Spain is still a large, diverse economy, and one of the UK's main trade and investment partners. Spain is the world's 13th largest economy, the 4th largest in the Eurozone and the 5th largest in Europe. Throughout the current crisis, it has kept its ranking as the UK's 8th largest export market (worth £15.3 bn in 2011 - more than India and Brazil combined).
Here is some good news from Spain
Spain has some world-beating companies
8 Spanish companies are on the 2012 Fortune Global 500 list of the world's biggest companies by revenue, and 5 of them have improved their ranking compared to 2011: Santander, Repsol, BBVA, ACS and Mapfre.

4 of the world's top 10 infrastructure companies are Spanish

Spain's export performance is one of the strongest in Europe
Spain's economy is attracting major foreign investment especially from the UK
Spain received €28.4bn of world FDI in 2011, an 18% increase year-on-year, and the UK was its largest investor with €6.7bn invested.

Spain was the 4th European destination for FDI. More than 900 UK companies operate in Spain, and while some are contracting (Barclays), others are returning (Marks & Spencer), setting up for the first time (Stella McCartney, Jo Malone) or increasing their investment (Tunstall, Primark)
There are major projects coming up
Eurovegas, Europe's largest infrastructure project starting construction end-2013, with total projected investment €17bn and 260k jobs.

Privatisation programmes already under way in air traffic control, airport concession, rail, and market liberalisation in public sector services.
There is still big spending power in some areas
GDP per capita in the country's most important regions (Madrid, Catalunya…..) is higher than that of countries such as Germany or France.
Platform to Latin America and North Africa
Latin America is Spain's 2nd largest export market, and Spain is the 2nd largest investor in Latin America. Many Spanish companies have large distribution capabilities in the region, and products sourced from the UK can "springboard" to Latin America via Spain. There are also emerging opportunities for collaboration with Spanish companies in renewable energies and infrastructure projects in North Africa.
Adam Austerfield, Managing Director, LSE Enterprise Spain & Latin America and Vice-President of the British Chamber of Commerce in Spain, discusses how LSE is making success in Spain and how UKTI assisted his company to break into market.
Business opportunities exist in Spain, discover them by contacting us: UK Trade & Investment Madrid E: uktimadrid@fco.gov.uk T: +34 917 146 412
Published 24 May 2013