World news story
Taiwan 2050 Calculator Launched
On 18 November, Taiwan launched its 2050 Calculator, only the fifth worldwide, after the UK, Belgium, China and South Korea.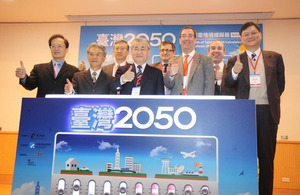 On 18 November, Taiwanese Deputy Prime Minister launched the Taiwan 2050 Calculator, only the fifth worldwide, after the UK, Belgium, China and South Korea. More than 150 key stakeholders participated in the launch, including local authorities, NGOs, academics and the media.
The Taiwan 2050 Calculator was funded by the Bureau of Energy (BOE) and developed by a team of more than 70 at the Industrial Technology and Research Institute (ITRI, a renowned local think tank) in consultation with UK's Department of Energy & Climate Change (DECC), the British Trade and Cultural Office(BTCO) and more than 100 external experts. This is the first time Taiwan has made any kind of energy modeling tool available to the public. The developer plans to use it for an island-wide energy and climate debate with key NGOs and academics engaged.
At the launch, a pre-recorded congratulatory video message was played from Greg Barker, UK Minister for Climate Change. This video will continue to be used promoting The Taiwan 2050 Calculator. Ewan Bennie, Head of Partnerships and Campaigns of Department of Energy & Climate Change (DECC) also presented on the impact of the Calculator in the UK(. Chris Wood, Director of the BTCO further stated, "The UK believes that climate change and energy shortages, are the perhaps the most serious long-term threats to the planet. We work with partners all over the world, including here in Taiwan, to promote sustainable development, create clear and transparent energy markets and take action on climate change."
More than 20 Taiwanese media outlets covered the launch, including the Commercial Times (FT equivalent). Commonwealth bi-weekly Magazine (The Economist equivalent) will have an in-depth article on the Calculator in its next issue.
Taiwan's Bureau of Energy and ITRI plan to continue promoting and developing the tool. They have already worked with NGOs to develop a number of climate and energy 'pathways'. ITRI plans to hold a conference with key stakeholders to discuss these pathways, and the energy options available to Taiwan shortly. It also hopes that the tool will be widely adopted by universities and schools as a teaching aid. We will continue to support this work.
The UK is a global leader in the development of renewable energy. The UK has the largest installed offshore wind capacity in the world as well as substantial onshore wind and solar capacity. In annual exchanges, BTCO continues to share with BOE and others UK's experiences of what has worked and what has not, building on the UK's reputation as an exemplar of low carbon best practice.
Excel spreadsheet : A more complex model, but it is open source and displays all of the supporting calculations and assumptions.
My 2050: For people who are short of time. Poeple can explore Taiwan's energy future by playing this simplified version.
Published 28 November 2013