World news story
Tackling hunger in Africa using Brazilian expertise
Workshop supported by DFID and UN agencies connected five African countries with Brazil to share best practices in tackling hunger.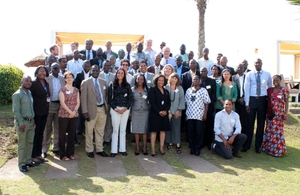 A Knowledge Exchange Workshop held last month in Senegal connected five African countries who are working to emulate Brazil's success in tackling hunger. The workshop marked the first assessment of a programme with the Brazilian government, supported by the UK Department for International Development (DFID) and United Nations agencies, to boost national strategies and programmes in Africa using Brazilian expertise.
The "Purchase from Africa for Africans" (PAA Africa) Programme aims to strengthen food and nutrition security and boost incomes for vulnerable farmers in Ethiopia, Malawi, Mozambique, Niger and Senegal. DFID funds the knowledge-exchange component of this programme, to share experience of the successful Brazilian model of local food purchases from family farmers. In Brazil, this policy approach has enabled poor people to graduate out of welfare into productive farming, access local markets, and channel diverse, nutritious products to school feeding programmes.
Luis Muchanga, from the National Farmers Union of Mozambique, said:
This is a mechanism that can keep children healthy, in school, under conditions, and better able to study. Therefore, it's not a simple intervention programme, it's a development programme.
DFID's support is part of a broader programme to support climate-smart agriculture and food security in Africa using Brazilian expertise. This programme complements a high level UK-Brazil partnership to work together as global advocates on global hunger and under-nutrition between the London 2012 and Rio 2016 Olympics.This will include co-hosting of a major international event on Nutrition for Growth next month in London.
Opened by the Prime Minister of Senegal, the PAA Africa Knowledge Exchange Workshop was the first open-dialogue amongst the participating countries on experiences, challenges and solutions. Government representatives from the five African countries and Brazil, civil society, United Nation's Food and Agriculture Organisation (FAO) and the World Food Programme (WFP) representatives and UK officials also discussed ideas for the future. In five years, the aim is for all activities to be fully coordinated by the host countries themselves.
Abdoul Mbaye, Prime Minister of Senegal, said:
PAA Africa is the expression of the political will of Heads of States in Brazil, Senegal, Ethiopia, Mozambique, Malawi and Niger, and an exemplar model of South-South cooperation supported by WFP, FAO and the United Kingdom.
As part of its global efforts to help reducing hunger and malnutrition in developing countries, DFID is a strong supporter of the PAA Africa programme. While still at a very early stage of implementation, the programme is a promising and innovative way to work in new ways with new partners to tackle tough problems.
John Barrett, from DFID, said:
Despite 50 years of effort, hunger is still unacceptably high. We need new ideas and approaches. That's why we're working together with Brazil - a country that has successfully transformed its agriculture and radically reduced hunger - to share its best practices with African partners.
Learn more about PAA Africa
Published 15 May 2013