World news story
Tackling climate change can drive growth
UK Energy and Climate Change Minister Edward Davey discusses policy co-operation with India.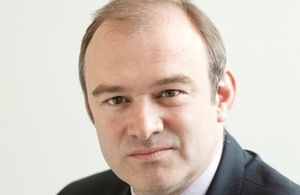 The UK Cabinet Minister for Energy and Climate Change, Edward Davey, will visit India 24-25 July 2014 to engage with the new Indian government and advance long-term policy cooperation between the UK and India on energy and climate change.
During the visit the minister will highlight how changing economics, new technologies and innovation mean that tackling climate change can drive growth rather than constrain it.
Speaking in London, the UK Energy and Climate Change Secretary Ed Davey said:
I am really excited to be visiting India so soon after the formation of the new government. India is a vital partner for the UK and there are many opportunities for us to work together to improve energy security, tackle climate change and create jobs and growth. I'm looking forward to deepening our collaboration to make that happen.
On Thursday 24 July, the Secretary of State will visit Ahmedabad to meet the Chief Minister of Gujarat, Anandiben Patel and the state energy minister and visit the Indian Institute of Management to deliver a keynote speech titled 'Changing Economics - Tackling Climate Change and Driving Growth'. The minister will also attend a round table with Gujarat energy sector experts.
In Delhi on Friday 25 July, Ed Davey will deliver an address at ICRIER (Indian Council for Research on International Economic Relations) on "Balancing Growth and Climate Change" and meet ministerial counterparts to discuss UK-India cooperation.
Further information:
Stuart Adam, Director,
Press and Communications
British High Commission,
Chanakyapuri, New Delhi 110021
Tel: 44192100; Fax: 24192411

Mail to: chandeep.kaur@fco.gov.uk
Follow us on Twitter, Facebook, Flickr, YouTube, LinkedIn, Storify, Eventbrite, Blogs, Foursqare
Published 23 July 2014