Press release
Tachograph calibration fees deregulated from 1 January 2012
Fees for calibration and periodic inspection of tachographs to become matter for Approved Tachograph Centres (ATC) and vehicle operators.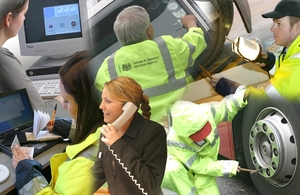 The fee for calibration and periodic inspection of tachographs will be deregulated from 1 January 2012, following a consultation with the industry.
It's expected that deregulation of the fee will:
allow ATC and vehicle operators to negotiate a fair fee for the calibration and inspection of tachographs
result in geographical variations in cost being accounted for
better support vehicle operators looking to have tachographs calibrated during unsociable hours
future-proof calibration / inspection against technological changes which will affect how much work will be involved in the inspection and calibration of tachographs
remove the need for future government involvement in fee setting
incentivise companies considering becoming an ATC
From January 2012, the fee charged by ATC will be a commercial matter to be agreed with the customer presenting the vehicle.
The existing fees are still in place up to and including 31 December 2011.
VOSA's Chief Executive Alastair Peoples said:
Deregulation will benefit the industry, giving ATC the opportunity to recoup their costs while providing a more flexible service to the customers.
A summary of the consultation responses can be found on Consultation on proposed changes to the fees charged by ATCs
Notes to editors
VOSA is responsible for:
processing applications for licences to operate lorries and buses and registering bus services
operating and administering testing schemes for all vehicles, including the supervision of the MOT testing scheme
enforcing the law on vehicles to ensure that they comply with legal standards and regulations
enforcing drivers' hours and licensing requirements
supporting Traffic Commissioners to help them make informed decisions on operator licensing, vocational drivers and bus registration requirements
providing training and advice for commercial operators
investigating vehicle accidents, defects and recalls
VOSA media enquiries
You should contact our press office if you have a media query or you're a journalist.
Published 12 January 2011