TA soldiers and civil servants receive Afghanistan campaign medals
Army reservists were welcomed home from Afghanistan by cheering crowds in Liverpool on Saturday, before receiving their campaign medals outside the city's Town Hall.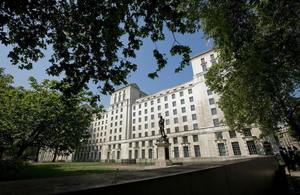 A total of 27 soldiers from 156 (North West) Transport Regiment marched through the unit's home city before receiving their campaign medals in a ceremony in the Exchange Flags area of the city.
The majority deployed between October 2011 and March this year as part of the Close Support Logistic Regiment, whose role is to move supplies, including food and mail, to troops based in forward operating bases.
The day began with a service of thanksgiving at Liverpool Parish Church, Our Lady and St Nicholas, which sits in the shadow of the Liver Building. The troops then marched through the city supported by the Duke of Lancaster's Regimental Band.
The medal ceremony was staged in the historic Exchange Flags area of the city which contains a memorial to Horatio Nelson and was home to the headquarters of Central Operations during the Second World War, from where the combined Services controlled the Western Approaches and helped ensure the safe passage of convoys across the Atlantic.
The medals were presented by the Lord Mayor of Liverpool, Councillor Sharon Sullivan, the Lord-Lieutenant of Merseyside, Dame Lorna Muirhead, and the Deputy Commander Land Forces, Major General Gerald Grosvenor, the Duke of Westminster.
The parade was led by Captain Graham Dowling, the officer in command of the cohort which deployed. He said:
I was involved in a very, very busy operations room. We had combat logistic patrols out every other day, and I looked after over 60 of them during the tour. Today was a very proud day; it was a culmination of all the effort that started over two years ago with pre-deployment training.
Captain Dowling's civilian job is with a local authority museum service. He explained:
This was the first time in 18 years that I've managed to get on an operational tour and I would definitely go again; I learned so much.

As a TA [Territorial Army] soldier and officer we do earn our medals because we put ourselves out for quite a time before, and then during, the tour, but our families are the great unsung heroes because they keep things running while we are away.
Francesca Freeman, a civilian support staff worker with 156 (North West) Transport Regiment, also received a campaign medal.
She volunteered to work as part of a Civil Service team in Camp Bastion which is responsible for the 5,000 civilian chefs, vehicle mechanics and construction workers who support the troops.
She said:
It was a good experience; I do enjoy working with the military because it's a bit different to working with civilians. It has its scary moments but I received training before I went which taught us how to deal with any attacks, but for most of the time there it was OK.
Published 11 June 2012