TA engineer honoured for work in Afghanistan
A Territorial Army (TA) engineer has been awarded a Queen's Commendation for Valuable Service for his inspirational leadership in dealing with an IED blast while building a new patrol base in Helmand province.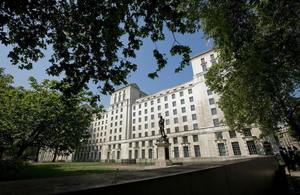 Major Christopher Wilcock, a Territorial Army officer in 23 Engineer Regiment (Air Assault), was in charge of a team of engineer advisors mentoring an Afghan Engineer Tolay (Company) over the winter of 2010/11.
He was managing the build of a new patrol base east of Gereshk when an improvised explosive device killed a member of the search team clearing the site.
Major Wilcock was ten metres from the explosion and took command instantly, organising a safe path to the victim. He placed himself at risk by helping those disorientated by the blast. His citation reads:
By sheer determination, coupled with remarkable energy and calm courage in adversity, Wilcock single-handedly ensured that the task, and therefore the operation, ended successfully.
His actions through the operation were critical to the success of the build and then courageous in response to a shocking and violent incident.
Six weeks later, Major Wilcock was tasked with a more complex project that involved building another patrol base and repairing two culverts. There was also limited access for vehicles. His citation concludes:
Wilcock devised a plan once again to achieve what had hitherto been considered impossible. At each stage he displayed the ability to plan in intricate detail, whilst leading the work personally, persuading the Afghans to do likewise.
His performance as an engineer, an advisor and leader was remarkable and he took the capability of the Engineer Tolay to a new level. He is most worthy of official recognition.
Major Wilcock said he was delighted to receive the award:
It's humbling for any soldier to be recognised for their performance in an operational environment and it feels particularly significant as an officer in the Territorial Army to be mentioned on the Operational Honours and Awards List.
The value we add on operations is testimony to the quality of training provided within the Territorial Army and the close integration we have with the Regular Army.
But this award is bittersweet for me and I feel recognition needs to be awarded to others. Particularly to one of my fellow officers and predecessor in the Brigade Advisory Group, the late Captain Alan Crompton.
The quality of his handover in Helmand and the work that he had done with the Afghan engineers in the previous six months really enabled me to hit the ground running.
A total of 140 members of the Armed Forces have received honours and awards in the latest Operational Honours and Awards List which was published on Friday, 30 September 2011.
The list recognises service on operations in Afghanistan and national operations for the period 1 October 2010 to 31 March 2011.
Published 5 October 2011