News story
Swire announces competition for new Parades Commission
Minister of State announced open competition for appointments to Parades Commission.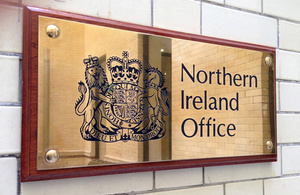 Minister of State for Northern Ireland, Hugo Swire MP has today announced the launch of an open competition for appointment to the posts of chairman and members of the Parades Commission.
He said:
Regrettably in the absence of a local solution to a new framework for parading I have been left with no alternative but to begin the process of making appointments to the Parades Commission in time for next year's marching season. I have therefore today launched a recruitment competition to make appointments to the position of Commission Chairman and six members of the commission.
The role of the Parades Commission remains extremely important and challenging. I would encourage individuals to apply who have a genuine interest in ensuring that the rights of those who parade and those who are affected by parading are treated with equal respect.
The new commission will be expected to build on the valuable work of the outgoing commission and continue to work with local communities to ensure that we do not see a repeat of the mindless violence which occurred as a result of some parades during the summer just past.
I would like to take this opportunity to thank the outgoing chairman and commissioners for their work.
Published 11 October 2010