Sustainable finance conference and awards
Impact investment announcements and award winning projects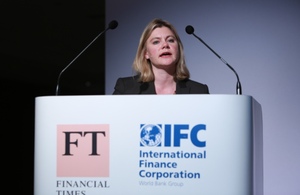 Last week International Development Secretary Justine Greening highlighted the importance of impact investment at the Financial Times/International Finance Coporation (IFC) Sustainable Finance Awards by announcing two new elements to the DFID Impact Programme:
Support to set up a network of Fund Managers working on basic services such as health, education and water and sanitation. This will enable knowledge sharing and help identify opportunities for partnership and co-investment.

Advancing Impact Management Skills (AIMS) project. As impact investment markets grow, there is a need for local expertise that goes beyond traditional investment management. DFID will work with local providers to train a new generation of impact investment professionals in Sub Saharan Africa and South Asia. This will increase local capacity, skills and expertise to develop and manage impact investments.
Justine Greening said:
Impact investment is playing a vital role in finding innovative and commercially viable solutions to some of the world's most pressing challenges. I want to see it become a leading source of innovative finance for emerging markets, using the immense creativity of the private sector to do what it has always done, compete – to push us all forward.
The event brought together senior public and private sector decision-makers in finance and sustainability to discuss the practical steps that have to be taken to maximise the flow of capital into social and environmental projects.
DFID Award for Achievement in Impact Investment
The Financial Times/IFC Sustainable Finance Awards are the leading global awards for socially and environmentally responsible banking and investment. The awards, now in their eighth year, attracted 254 entries from 161 financial institutions in 59 countries.
This year for the first time, DFID partnered with the Financial Times and the IFC to support a special award for "Achievement in Impact Investing".
The Award recognises investment Funds and intermediaries that have a clear strategy to make financially sustainable investments with the intent to benefit the poor in sub-Saharan Africa and/or South Asia as consumers, producers, suppliers or employees.
The winner of the award, Root Capital, has provided more than $500 million in loans to more than 425 borrowers representing nearly 750,000 farmers and artisans in 40 countries in Latin America and sub-Saharan Africa.
M-KOPA wins 2 awards
There was also success for DFID at the awards ceremony when the DFID-supported M-KOPA Solar won for 'Technology in Sustainable Finance', as well as the overall award for 'Excellence in Sustainable Finance'.
M-KOPA's pay-as-you-go energy technology allows poor consumers to buy energy products using mobile phones. Through this innovative business model, communities can gain access to ground-breaking new technologies that will improve their living conditions while also having positive environmental impacts. With UK government support, M-KOPA is conducting further research and development to bring down the cost of the technology and provide clean energy to the very poorest.
Related links
Justine Greening's speech at the sutainable finance awards on 13 June 2013
Press release - Greening: Five million to benefit from impact investment
Published 19 June 2013