World news story
Sustainable construction code for Chile is presented
This was published under the 2010 to 2015 Conservative and Liberal Democrat coalition government
Chilean Ministers of Housing and Environment presented project developed through the support of the United Kingdom's Prosperity Fund.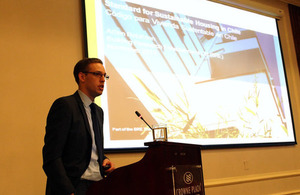 Ambassador Jon Benjamin together with the Minister of Housing and Planning, Rodrigo Pérez and the Minister of Environment, María Ignacia Benítez, launched the first "Sustainable Construction Code" for Chile, created by the British organisation Building Research Establishment (BRE) and the Chilean Ministry of Housing. The development of this code was possible thanks to the support of the United Kingdom's Prosperity Fund.
BRE is dedicated to consulting, capacity building and innovation analysis within the construction sector. The company has a broad international experience in the design and implementation of sustainable construction standards.
The implementation of this code will not only help to improve environmental standards for Chilean housing but will also generate economic benefits and more comfortable habitats for occupants.
The initial implementation of the code will be voluntary with the plan that over time obligatory components will be incorporated gradually.
This project is a concrete contribution of the Embassy to the excellent work in climate change taking place in Chile and in particular the Government's initiatives through the Inter-Ministerial Sustainable Construction agreement.
Further information
For more information about this project, contact Felipe Osses, Climate Change and Green Growth Officer at the British Embassy. You may also get more details about other projects by visiting our Climate Change pages.
For more information about the activities of the British Embassy in Santiago, follow us on:
Document information
Published: 27 November 2013