World news story
Sustainable Cities Mission showcases UK's expertise in sustainable development
This was published under the 2010 to 2015 Conservative and Liberal Democrat coalition government
A delegation of 10 UK companies was welcomed this week on the opening leg of the 2013 Sustainable Cities Mission to Chongqing and Changsha.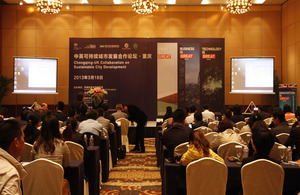 The mission programme put together by the UK Trade and Investment team gave the ten companies a platform to showcase their range of specialist products and expertise in low carbon, sustainable construction and water sectors to an invited audience of local government and industry.
The mission was opened by Consul General Simon Lever and the Leader of the Chongqing Urban-Rural Development Commission Zhang Qin, with a reflection on the recent development of Chongqing and its prospects for the future. Presentations on the Yuelai Eco Town and Jiangbeizui Central Business District of the Liangjiang State Level Development Zone warmed the UK participants to the extent of opportunities available in fast-growing Chongqing; after which the UK missioners, from recently established small and medium enterprises (SMEs) to Fortune-500 global giants, introduced their companies, their products and their expertise to the Urban-Rural Development Commission, Chongqing Real Estate Association, local design institutes and over 30 local companies in the audience. An afternoon Round Table event provided an opportunity for more detailed discussions and mutual expressions of interest in future business cooperation.
The mission received warm welcome from Ba'nan District government leaders on 19 March, who led the mission to the site of the Yangchun Wet-land Park project site along the Yangtze River. Ba'nan occupies 1825 km2, the largest and one of Chongqing's most active districts in urban development, and leaders expressed their hope that an experienced company can take on the job of planning and design for the Wetland Park, a place they are sure will be Chongqing's next top destination. Consul-General Simon Lever and Party Secretary of Ba'nan Li Jianchun agreed that there are many opportunities for UK and Chongqing do business together in the foreseeable future.
On their Beibei District visit the same day, the delegation met with the Deputy Governor and local key players in low-carbon development. They exchanged views on helping Beibei develop into a modern, liveable and green city.
Following the mission, Head of Trade and Investment Simon Mellon said:
Chongqing is a city with an impressive history and a bright future, still experiencing double digit GDP growth and projected to grow by over 400% by 2025. This growth, and the demographic changes taking place across China, provides a wealth of opportunity for British companies to be a part of the next stage of Chongqing's ongoing development.
In the coming month, the British Consulate-General Chongqing will lead well-known British companies in architecture to participate in the 6th City Expo in Chongqing. A zero-carbon pavilion will be built for the Expo by British architects ALL Design. In June, members of the Royal Institute of British Architecture (RIBA) will visit Chongqing. All those events will bring more creativity and impetus to Chongqing's sustainable future.