World news story
Sustainability and the OECD
On April 8, 2014, the British Embassy, in collaboration with the Ministry of Trade of Costa Rica, the Dutch Embassy in Costa Rica and other key partners, took part in a Sustainability Day, entitled "Costa Rica: on the road to the OECD."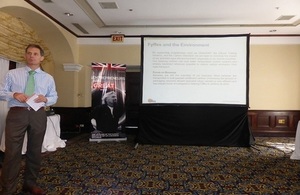 We spoke to one of the participants, Mr Hugo Hays, Head of CSR, Food Safety and Sustainability at Fyffes about the importance of Corporate Social Responsibility and why companies should take this matter seriously. Fyffes is the oldest fruit brand in the world, and has been importing fruit into the UK since 1888.
What is CSR and why is it important?
Hugo Hays (HH): Corporate Social Responsibility is a form of corporate self-regulation. It works as a built-in, self-regulating mechanism, whereby a business monitors and ensures its active due diligence and compliance with the spirit of the law, sustainability standards, and international norms. And above all, CSR makes good business sense! This way we protect our "People", the "Planet", and look after the long-term Economic sustainability ("Profit") of a company.
Isn't CSR just philanthropy under a different name? And what is the tie-in to the UK's "Business and Human Rights" initiative?
HH: Philanthropy can certainly be part of a CSR strategy, but a more comprehensive approach is normally adopted, targeting compliance and management of risks to the company. This provides a more fundamental strategic and operational impact than would be obtained by simply donating funds to favoured causes.
The Business and Human Rights Initiative calls on companies to implement the UN Guiding Principles on Business and Human Rights, which confirms the need for a fully comprehensive approach to CSR within organisations, namely to ensure human rights are respected, implement policies in that line, and set up monitoring systems for transparent reporting.
What is the key for having a successful CSR strategy?
HH: The development of a CSR Strategic Plan is essential for streamlining the companies approach, and to have commitment from the highest level.
Share one positive outcome you've seen as a result of community engagement.
HH: I have seen how small farmers have grouped together and become much more business oriented in parts of Colombia where they now receive a better price for their bananas. This is averting early retirement for many of them, as they are now able to employ workers and boost production through better finances. Their quality of life is much improved and this is evident in the streets, where houses are now painted and general activity has picked up.
Fyffes is one of the largest supplier of Fair Trade bananas to the UK. How do you ensure that workers in the fruit industry are treated fairly?
HH: The Fair Trade organisation carries out evaluations of participating farmers to verify compliance with the programme's rules. In addition, Fyffes collects data on wages and hours worked, and carries out audits on farm to verify compliance with ETI (Ethical Trade Initiative) principles. These audits are uploaded online for clients as well, creating a transparent and robust monitoring system.
What is your favourite weekend hangout in Costa Rica?
HH: I am recently arrived in Costa Rica, so far my family and I have very much enjoyed the jungle experience at the "Selva Verde", around Puerto Viejo de Sarapiquí, near one of our pineapple farms.
Published 8 April 2014