Survey ship Scott back on ice patrol
The Royal Navy survey ship HMS Scott has returned to the southern wilderness of Antarctica for the second time to carry out survey work.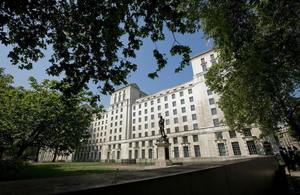 Scott, named after the ill-fated explorer Captain Scott, is the Royal Navy's ocean survey vessel and is one of the largest in the fleet at 13,500 tons (12,250 metric tonnes).
She is in the Antarctic to protect Britain's scientific interests, and to patrol South Georgia, the South Sandwich Islands, the South Shetland Islands and beyond.
The ship left Devonport in Plymouth before Christmas and her crew has endured the worst of the Southern Ocean on the way to Antarctica. Winds have blasted at more than 60 knots (110km/h), and there have been 20-foot (6-metre) waves and storm conditions.
Now there, HMS Scott has encountered nothing more than penguins and seals over recent weeks as she patrols the region.
Scott's Commanding Officer, Commander George Tabeart, said:
Carrying out this ice patrol is a privilege and a change from our usual tasking of ocean survey.
Scott has the flexibility to let us carry out a range of activities that have been carried out by previous Royal Navy ships here.

Safety of life is a paramount concern in these remote waters, so our survey work will ensure that tourists can safely visit the pristine environment and witness the abundance of wildlife in Antarctica.
HMS Scott will spend the southern hemisphere summer working for the British Foreign and Commonwealth Office, the UK Hydrographic Office and the British Antarctic Survey around the Antarctic Peninsula.
Her tasks include inspecting fishing vessels, visiting Antarctic research stations and enforcing the tough environmental measures of the Antarctic Treaty.
This helps to ensure that the wilderness of Antarctica is maintained for generations to come. HMS Scott will also continue her deep water survey work, mapping the Antarctic seas to ensure safe passage for the plethora of cruise ships that are now visiting the region.
Published 22 February 2011