News story
Survey finds mid-cap businesses confident for the New Year
The survey, "Results from the 2010 Finance Survey of Mid-Cap Businesses", showed that mid-caps are emerging well from the recession with the…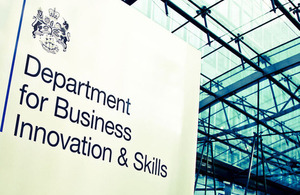 The survey, "Results from the 2010 Finance Survey of Mid-Cap Businesses", showed that mid-caps are emerging well from the recession with the majority of the businesses seeking finance obtaining the finance they need. Ninety-three per cent of those seeking finance obtained finance, which is an improvement from last year's figure of 82 per cent.
Next year 58 per cent of mid-caps expect their sales to be higher than current levels. Over half - 54 per cent - of mid-caps also reported an increase in their turnover over the last year. The net balance of sales growth rose significantly on 2009 from -25 to +31, which indicates a greater number of businesses are now growing.
Minister for Business and Enterprise Mark Prisk said:
"Mid-caps are an essential aspect of our economy, employing over a fifth of our workforce and helping boost growth. It is pleasing to see they are recovering well from the recession and are facing fewer problems with access to finance."
Just seven per cent of mid-caps reported access to finance as the main barrier to the success of the business, down 10 percentage points on last year's figure of 17 per cent.
The surveyed businesses reported they had reduced their demand for external finance with only 32 per cent seeking external finance in 2010, a decrease of nine percentage points from the previous year.
Mid-caps are especially important to the economy despite only making up 0.5 per cent of enterprises in the UK, they make a disproportionate contribution to total UK employment, with 21 per cent of jobs and contribute almost 20 per cent of total turnover.
Notes to editors
---
Results from the 2010 Finance Survey of Mid Cap Businesses can be found at http://www.bis.gov.uk/policies/enterprise-and-business-support/analytical-unit/research-and-evaluation/globally-competitive-business-environment
A mid-cap business is larger than an SME and is defined as having a turnover of £25 million - £500 million.
The research was undertaken by an independent research organisation (BDRC Continental). 401 mid-cap businesses were interviewed between 22nd September and 21st October 2010.
BIS' online newsroom contains the latest press notices, speeches, as well as video and images for download. It also features an up to date list of BIS press office contacts. See http://www.bis.gov.uk/newsroom for more information.
Notes to Editors
Contact Information
Name BIS Press Office Job Title
Division COI Phone
Fax
Mobile
Email NDS.BIS@coi.gsi.gov.uk
Published 30 December 2010