News story
Survey finds increased opportunity for UK automotive supply chain
The 2012 survey shows that the purchasing spend of the vehicle makers who responded to the survey is £23.6 billion. This is an increase of £…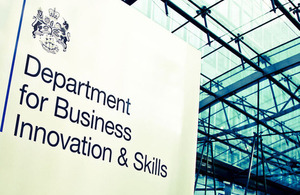 The 2012 survey shows that the purchasing spend of the vehicle makers who responded to the survey is £23.6 billion. This is an increase of £3 billion on 2011.
With auto manufacturers spending a third of this figure, £8.4 billion, on UK suppliers and actively wanting to buy more in the UK, the 2012 survey looks at where UK companies can win a bigger share of the business.
Sourcing opportunities go across the range of vehicle components from high value forgings and castings to consumables like batteries or interior parts. With the UK producing 2.5 million engines a year, one of the biggest opportunities identified by value, was engine parts at £540 million.
Speaking at the Advanced Engineering, Automotive and Aerospace British Business Embassy, Business Secretary Vince Cable and co-chair of the Automotive Council said:
"The strength and depth of the supply chain has not been keeping pace with the level of investment we've recently seen by vehicle manufacturers in the UK. Growing capacity in the automotive supply chain or bringing it back from overseas is a priority.
"Through the Automotive Council, we are working together to make UK supply chain companies aware of how much more business they could win in the UK."
Professor Richard Parry-Jones who also co-chairs the Automotive Council said:
"As well as looking at the here and now, the 2012 survey shows that, with more low carbon vehicles coming onto the roads, this is creating new supply chain opportunities as well. Capability assessments show that UK technology providers are well placed to benefit from this growing demand particularly in areas such as energy storage and intelligent mobility."
Notes to editors:
The British Business Embassy is a series of 18 global business summits organised by UK Trade & Investment during the Olympic and Paralympic Games to showcase British industry and promote international business opportunities.

Growing the UK automotive supply chain - the road forward 2012 update can be found at http://www.bis.gov.uk.

Fourteen companies from across the UK vehicle, engine and construction equipment sectors participated in the survey and follow-up actions.

The 2011 Office of National Statistics (ONS) trade figures showed that while we exported £4.7 billion of auto parts, we imported.£10.8 billion of auto parts.

2012 compared to 2011 purchasing spend and opportunities:
2011 report
Estimated current position
Estimated current opportunity
Respondents' spend with UK suppliers
£7.4 billion
£8.4 billion
£11.4 billion
Respondents' total spend
£20.6 billion
£23.6 billion
£23.6 billion
Purchases across total industry (Source ONS, BIS estimates)
£28.8 billion
£32 billion
£32 billion
UK sourcing opportunity taken from the Growing the UK automotive supply chain - the road forward 2012 update.
Component
Value opportunity
£ millions
Engine castings
370
Steering systems
220
Trim (door cards, headlining, plastics etc)
170
Harnesses
160
Seating
150
Tyres
140
Alloy wheels
140
Lighting
130
Electronics (ECU, ESP, ABS, PDC)
110
Engine forgings
170
External plastics (bumpers, trim)
100
Entertainment/Navigation
90
Bearings
80
Instrument clusters
80
Glass
70
Hinges
70
Hot Stampings
70
Welded assemblies
70
12V lead/acid battery
60
Cast aluminium sub-frames
60
Brake callipers
50
Drive shafts & CVJs
50
Engine accessories (alternator, starter, air conditioning)
50
Fuel tanks
50
HVAC assembly
50
Chassis Suspension Module
40
Misc assemblies (pedals, mirrors, roof rails, grilles)
40
Shock absorbers
40
Heat shields
30
Oil pans
30
Small pressings
30
Transmission components
30
Large/medium pressings
30
Steel wheels
20
Carpets
20
Suspension springs
10
Switchgear
10
The Government's economic policy objective is to achieve 'strong, sustainable and balanced growth that is more evenly shared across the country and between industries.' It set four ambitions in the 'Plan for Growth' (PDF 1.7MB), published at Budget 2011:
To create the most competitive tax system in the G20

To make the UK the best place in Europe to start, finance and grow a business

To encourage investment and exports as a route to a more balanced economy

To create a more educated workforce that is the most flexible in Europe.
Work is underway across Government to achieve these ambitions, including progress on more than 250 measures as part of the Growth Review. Developing an Industrial Strategy gives new impetus to this work by providing businesses, investors and the public with more clarity about the long-term direction in which the Government wants the economy to travel.
BIS's online newsroom contains the latest press notices and speeches, as well as video and images for download. It also features an up to date list of BIS press office contacts. See http://www.bis.gov.uk/newsroom for more information.
Notes to Editors
Contact Information
Name BIS Press Office Job Title
Division Department for Business, Innovation & Skills Phone
Fax
Mobile
Email bispress.releases@bis.gsi.gov.uk
Name Rebecca Murrell Job Title
Division Department for Business, Innovation and Skills Phone 020 7215 6403 Fax
Mobile
Published 10 August 2012