Press release
Supporting Volunteers' Week with a boatload of data
Celebrating the work of a volunteer at Dstl.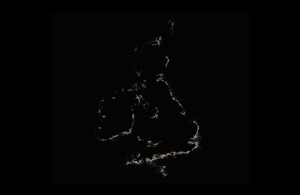 Volunteers' Week is an annual celebration of the fantastic contribution that millions of volunteers are making across the UK. This year it is taking place from 1 – 12 June.
Staff at the Defence Science and Technology Laboratory (Dstl) can take up to 3 days' a year special paid leave for volunteering.
Rich Brantingham works in Dstl's Cyber and Information Services division, and takes advantage of this opportunity by putting his skills to use with the Royal National Lifeboat Institution (RNLI) – the charity that saves lives at sea.
He said:
I'd have liked to have been a boat crew volunteer, but I'm too far from a station. So instead I've become a 'non-traditional volunteer' – a breed I'm hoping will grow as the RNLI taps into skills and experience that could help it achieve its purpose.
Earlier this year, Rich was at the RNLI's Innovation Showcase, which aimed to stimulate innovation across the organisation. There were a number of stands showcasing work done by RNLI teams, from new fundraising initiatives to improvements to rescue vessel steering systems.
At the event, Rich presented some of the work he'd been doing to make best use of Automatic Identification System (AIS) data from RNLI vessels. AIS is an automatic tracking system used on ships and by vessel traffic services for identifying and locating vessels. AIS involves electronically exchanging data with other nearby ships, AIS base stations, and satellites. Back in spring 2015, Rich was given two areas of work by the RNLI: providing open access to AIS data with the aim of making better use of data throughout the organisation and stimulating further innovation; and producing visualisations of historic data to show the length of coastline the RNLI covers.
He secured four years of AIS data – 1.5 million data points – for 'free-to-a-good-cause' from a commercial provider that he databased on Amazon Web Services. By the time of the Innovation Showcase event, Rich had generated density images of RNLI AIS points for the UK and more detailed images for areas on the south coast.
Rich said:
There's loads of things we can do with the track data to raise public awareness and inform business decisions. The approach I've taken means all the data for a vastly distributed fleet is stored and can be queried in a single location. This means images and information can be much more easily extracted and used by RNLI staff, for example, in their awareness campaigns. I've now made recommendations to the RNLI about how we can take the work forward with a key theme being 'open data to stimulate innovation'.
Published 2 June 2016