Supporting the environment: 12 months on
One year on from the Prime Minister's pledge to become the greenest government ever, find out how we are progressing.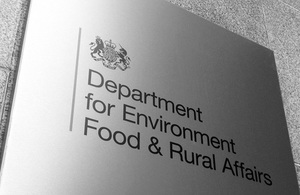 One year on from the Prime Minister's pledge to become the greenest government ever, the Department for Environment, Food, and Rural Affairs is pressing ahead with the vital changes necessary to protect Britain's wildlife and natural environment, to support a strong food and farming industry, and to help build a strong green economy.
Speaking 12 months in to what she describes as a 'challenging but crucial' role, Environment Secretary Caroline Spelman has been reflecting on some of the green successes since taking office.
Mrs. Spelman said:
"This government has had to face up to the twin challenges of economic recovery and mitigating and adapting to climate change. Building a strong green economy is central to dealing with these problems.
"These challenges are long-term and can't be solved just with eye-catching initiatives that generate a few good headlines but are quickly forgotten. We've been working with the experts in their field to identify areas where government can work with the private sector, NGOs, and local communities to make a real difference.
"For example, we've created 15 new Marine Protected Areas since last May to conserve marine biodiversity, in particular species and habitats of European and national importance. And we're investing £110m to clean up England's rivers, tackling problems that have been sitting in the too-hard basket for too long. We'll be working with local groups to turn our waterways into healthy wildlife habitats, sort out problems regarding ownership, access, and upkeep, and address sources of pollution.
"There's also the international aspect of what we're doing. The UK isn't alone in needing to protect the environment and wildlife for future generations. Since coming into office we've worked at EU level to block any changes that would have weakened the international moratorium on commercial whaling. We've also built support among member states to push for an EU-wide ban on illegally logged timber entering the European market, to cut off the outlets through which it can be sold .
"Similarly we're leading calls to end the disgraceful waste of fish discards and pushing for a more sensible system which allows fisherman to land more while managing stocks sustainably.
"It's really important that we work with our international partners to achieve results. Last October the UK played a leading role in negotiations at Nagoya, where I signed a historic global deal to protect wildlife and habitats. This will ensure that by 2020 our natural environment is resilient and can continue to provide the essential services that we would otherwise take for granted.
"And of course, as well as looking at where we are now, we need to look to the future and make sure we're ready for the changes which a changing climate will inevitably bring. This week Defra published 'Climate Resilient Infrastructure', which is an urgent call to action for the owners and operators of our national infrastructure to adapt it to cope with more extreme weather which we're already experiencing. Otherwise essential services such as utilities, transport, and communications will fail, with damaging consequences for our economy.
"The government can be most effective when it sets the right regulatory framework and policy direction. Our Natural Environment White Paper will show how we will improve our environment for future generations, changing how we value our green spaces and getting more people involved so that we can all enjoy the benefits nature brings.
"In the Comprehensive Spending Review we increased funding for Higher Level Stewardship by 80 per cent over the next four years, meaning that more farmers will be eligible to join the scheme that encourages a higher standard of environmentally sound land management and farming.
"We're looking at how energy and water policy will need to take account of climate change. And the results of our Waste Review will set out how we can create less rubbish in the first place and treat unavoidable waste as a valuable resource."
"And with 40 per cent of the world's economy estimated to rely on biological products or processes, we'll be setting out our plans later this year to build natural capital into economic activity, making it easier to make 'green choices' and build resource efficiency into business planning, which could deliver savings of up to £23bn for businesses.
"What we're trying to do is make sure that actions are taken by the right people at the right level. Government is not the only player with a stake in the environment - it affects all of us. The issues are wide-ranging and the decisions we take now need to be the right ones because they will set the tone for years to come.
"The idea of being the greenest government ever isn't a sound-bite or a quick fix solution. It's about embedding the value of our environment and its resources in the economy and our national consciousness. Forever."
Published 11 May 2011