World news story
Supporting the development of solar power in southern Vietnam
Southern provinces of Vietnam are supported to develop rooftop solar power systems.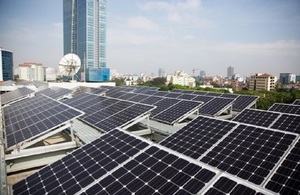 The United Kingdom Foreign & Commonwealth Office, Dragon Capital Group, and Energy Conservation Center – Ho Chi Minh City today announced their support to an initiative to help businesses in Ho Chi Minh City, Binh Duong, Long An, and Dong Nai to develop rooftop solar photovoltaic systems, producing clean and reliable energy to be used at sites.
The initial phase of the "Supporting Southern Vietnam Solar Photovoltaic Development (Solar Hub)" Initiative, with financial support from the UK Government's Prosperity Fund, will last until March 2017. Technical support will be offered to selected rooftop solar power systems to conduct pre-feasibility studies, solar radiance resource measurement, and financial viability evaluation. The Solar Hub will gather and consolidate data from existing sites to build a database of solar information accessible to the government, suppliers, consultants and businesses wishing to generate solar energy. Assessment of the legal and licensing implications of implementing the Vietnamese Government's draft Solar Decision will be one of the project activities. The findings and case studies will be published on a solar-dedicated website for public access and shared with the city and provincial governments to support their policy development in promoting solar energy.
Andrew Holt, Head of Prosperity, British Embassy Hanoi said:
I am very pleased that Vietnam is among the first countries to benefit from the new £1.3 billion Prosperity Fund announced in November 2015. I am confident that the Solar Hub project will demonstrate real impact on the uptake of solar power in Vietnam and will help make the case for investment in renewable energy sources more generally.
According to Gavin Smith, Director of Dragon Capital Clean Development:
The solar industry in Vietnam is in its infancy and the supply of accurate and reliable information to a new market is critically important, therefore the Solar Hub will make a positive contribution to encouraging private sector investment in solar energy. The United Kingdom has developed a vibrant solar industry and its universities, equipment suppliers, consultants and financial investors have great experience to share with Vietnam. The Solar Hub will focus on the fast growing commercial and industrial areas that enjoy the best solar resources and rapidly growing energy demand. Dragon Capital Group is pleased to support this project and to assist in making Ho Chi Minh City the 'solar capital' of Vietnam.
Director of Energy Conservation Center Huynh Kim Tuoc said.
After the successful implementation of the Pilot Program for Supporting Mechanisms of Solar Photovoltaic Investment in 2015 in Ho Chi Minh City, the city now has more than 1MWp of installed solar power. In 2016, the market continues its impressive growth with more than 2.5MWp of installed capacity from corporate investments. We hope and believe that this FCO-funded project will be implemented effectively for Southern Vietnam and particularly for Ho Chi Minh City.
Note to Editors:
About the Prosperity Fund
The 2015 UK Strategic Defence and Security Review announced a £1.3bn Prosperity Fund over the next 5 years to promote the economic reform and development needed for growth in partner countries. The priorities will include improving the business climate, competitiveness and operation of markets, energy and financial sector reform, and increasing the ability of partner countries to tackle corruption. As well as contributing to a reduction in poverty in recipient countries, these reforms are expected to create opportunities for international business including UK companies.
The UK Government has allocated around £1.1 million to fund projects in Vietnam through the Prosperity Fund in financial year 2016-17. These will focus on (i) promoting energy security and lower carbon energy and (ii) fostering an open and transparent business environment.
About Dragon Capital Group
Founded in 1994, the Dragon Capital Group is an integrated investment company based in Vietnam. Dragon Capital Group and its affiliates manage some US$1.3bn in assets spanning public equity, private equity, fixed income and property. Dragon Capital Group's primary shareholders are the company's founders, management and staff. The firm presently employs over 100 staff at its offices in Asia and Europe www.dragoncapital.com
About Energy Conservation Center
Established in 2002, Energy Conservation Center - Ho Chi Minh City is a quasi-government agency, operating under the Department of Science & Technology of Ho Chi Minh City. It is one of the leading organizations in energy efficiency and renewable energy in Vietnam. ECC has assessed and conducted energy audit for more than 1,000 customers in Vietnam, established the first solar panel factory, and set up the "green building" training program using international standards www.ecc-hcm.gov.vn.
Published 1 July 2016