World news story
Supporting small-scale projects in the OPTs
From:

Part of:

Published:

8 May 2013
This was published under the 2010 to 2015 Conservative and Liberal Democrat coalition government
Bilateral Programme Budget (BPB) funds projects and events that will contribute to encouraging sustainable development in the OPTs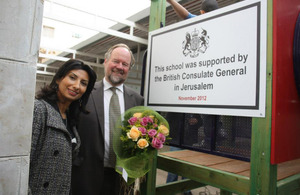 Through the bilateral funding, the British Consulate General in Jerusalem was able to fund small-scale projects in the West Bank up to £5,000, with the aim of meeting the needs of Palestinian communities across West Bank and Gaza.
One of the projects included a computer lap for Al-Amal School for the Deaf in Hebron, which the funding helped purchase 12 computers that are adaptable for the use of children with hearing impairment.
BPB also supported Idna Women's Cooperative in Hebron. The £8,000 support enabled the cooperative to buy machines and raw material for women's embroidery project to become more self-reliant.
List of other BPB grantees 12/14
Sabah Cultural Centre, £ 4,000
The organization implemented the first summer camp for children in the Jabal Al-Baba area of Bethany. 70 children participated, between the ages 10 - 14. The camp lasted two weeks, with the objective of providing creative activities for children in an area under threat of house demolitions.
Yaboos Society in Rafah, £ 9,000
Offering training for 80 women on how to establish small private projects and providing new equipments for Yaboos sewing workshop in Anaser Village. The women will learn new skills to help them compete for new jobs.
Earth & Human Centre for Research and Studies (EHCRS), £ 8500
Supporting the EHCRS to enhance farmer's capacity to fight Red Palm Weevil (RPW) in Deir Al-Balah Area. The palm sector in the Gaza Strip is one of the important agriculture fields mainly in central and southern area. The project will provide 80 farmers with skills and methods to protect their palm farms and to control the effects of RPW, in addition to environment and health awareness.
Young Men Christian Association (YMCA), £ 9,000
Rehabilitating an outdoor Basketball playground in Gaza. The project will train 4 teams of young male and female basketball players.
Reyada Association in Fakhary Village, £ 6500
Providing entertainment activities for 150 children from the small village of Fakhary. Through the project the children will play, learn, act and draw to get rid of their fear and psychological problems.
Islamic Relief Palestine, £ 7000
Upgrading the Health Professions lab at Al-Azhar Intermediate Studies College in Gaza. The lab prepares students to work in the clinical field by introducing them to the basic healthcare skills. Around 300 students apply annually to the health professions diploma.
Contributing to the Children's Theatre Week in East Jerusalem aiming to activate the role of theatre as a meaningful tool of communication.
Beit Sahour Cooperative Society for Health Welfare-Shepherd Field Hospital, £5000
Replacing the present old instruments with new sets of instruments to better serve patients at the surgical ward.
Al-Waha Society for Persons with Disability in Beit Sahour, £850
Enabling the Society to purchase of a professional printer that will make it easier to print customers' cards according to better standards than currently offered.
Slynn Foundation- Scoping Visit, £8180
Identifying needs, examining and advising on relationship between the Ministry of Justice and the High Court of Justice.
Jod Institute for Special needs, £6000
Supporting diagnosis clinic for kids with special needs. Centre unique of its kind in The OPTs, the only one authorised by MOH. Run by doctors who are volunteers, two of them the only two specialists in Palestine in cognitive disabilities. Ability to reach more than 40 children per month. We are asked to support software and testing tools, outreach campaign and training of staff that can do early diagnosis in schools, villages and camps.
World Council of Churches, £4000
Healthy living for Ecumenical Accompaniers in Yanoun. Rehabilitating the room for accompaniers in Yanoun which is currently in poor condition.
Adam Centre in Ramallah Al Malih Bedouin community, £6500
Supporting KG for displaced community in Al-Malih. Other types of support include solar grid for electricity and water tanks.
GIZ recently gave funds to Mada to purchase the centre; they need to do internal works and renovations. For £7000 the centre will be up and running to receive children and families, holding meetings and workshops and community volunteering activities. Much needed support for Silwan.
Siraj Al-Quds school for blind children, £5000
Continue support for sports activities for children as part of Olympics legacy.
Supporting the centre in the old city to rehabilitate and improve outdoor football playground which has deteriorated due to frequent use by the community. It also happens to be the only playground in the Old City. If Burj don't do rehabilitation of the place, they will risk further deterioration putting the playground out of use.
Ramadan Festival- Jerusalem Economic Development Forum, £3000
Reviving Salah Eddin Street, encouraging Ramadan shoppers to visit the street and give chance to local businesses.
Palestinian Judoka Association, £5500
Refurbishment of the Judoka Federation. Championship involving 80 children from 9 areas of East Jerusalem.
Palestinian Association for Children's Encouragement of Sports (PACES),
Supporting after school activities for children in Walajeh: providing a safe environment and developing of sports skills for 90 students in an instructive programme lasting nine months.
How to apply
The BPB has limited funds available. Submitting a project will not mean a guarantee of funding, as the project will be evaluated under the BPB policy and strategic objectives. The British Consulate General opens the window for new projects bids on the bilateral budget twice a year: from 1 September to 10 October, and 1 April to 20 May. Please send concept ideas by filling the project concept bid form and sending it to the Consulate's Projects Officer at britain.jerusalem@fco.gov.uk