Supporting Freedom of Expression and Information in Tunisia
The UK supports efforts to guarantee freedom of information and expression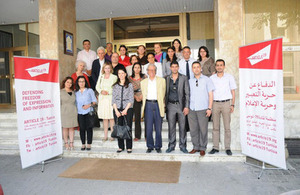 The British Embassy in Tunis was pleased to support two debate workshops on the draft laws 41 and 115 on the freedom of information and freedom of expression, on 24-25 June. The workshops are part of a broader project to advance freedom of expression in Tunisia. The project is run by Article 19 and is one of the key deliverables of the UK's Arab Partnership Programme investing around £2.5 million (over 6 million TND) in Tunisia this year alone.
The workshops were attended by a number of legal experts, journalists and representatives of the newly formed independent media monitoring body, HAICA. The participants had a unique opportunity to review the interpretations of the decree laws and to discuss issues related to freedom of expression and freedom of information in Tunisia.
A number of recommendations were agreed to support freedom of expression in Tunisia, such as:
To speed up the process of creating information officers in different governmental structures;

To raise awareness among governmental officials of the benefits of transparency and how to cooperate with the media to fight corruption;

To launch a media campaign promoting the right of access to information;
Article 19 is an international organisation based in London with offices around the world, including in Tunis. It has a specific mandate and focus on the defence and promotion of freedom of expression and freedom of information. The organisation takes its name from Article 19 of the Universal Declaration of Human Rights.
The Arab Partnership Programme is the UK's strategic response to the political changes in the MENA region. It aims to support the democratic transition through political reforms and economic recovery.
For more information
· Check our Arab Partnership Page
· Contact the Arab Partnership Team
· Stay informed by liking our Facebook Page and following us on Twitter.
Published 12 July 2013