News story
Supporting Exams Officers
Ofqual would like to hear the views and experiences of Exams Officers to find ways to help support them better.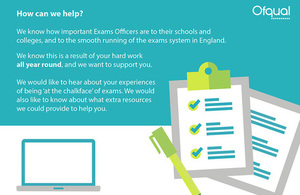 We are inviting Exams Officers to tell us more about their roles within schools and colleges and the resources we could provide which may help them continue to run successful exam series.
If you are an Exams Officer or a member of school/college staff involved in the running of GCSE, AS and A level exams, please click here to give us your views and suggestions.
Summer exams are an all-year-round effort
For many school and college staff, when exam halls are packed up and the 'silence' signs disappear, they may be tempted to ask an Exams Officer what they do for the rest of the year. Marcia Woods, Exams Officer at Brookfield Community School in Chesterfield, explains in a guest blog post here.
Published 20 September 2018