World news story
Supporting education for girls in Morocco
British Ambassador celebrates achievement of a group of girls from rural Morocco who have completed their baccalaureat exams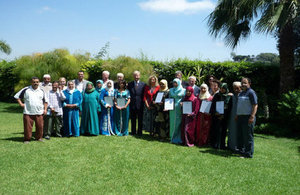 Ambassador Clive Alderton hosted an event to celebrate girls from remote villages in the Atlas Mountains being the first in their region to complete their Baccalaureate examinations. These studies give the girls an opportunity to make a reality of their ambitions and dreams and to fulfil their potential.
Providing secondary education for girls from the rural communities of Morocco is a real challenge. Colleges, mostly several kilometers away in larger towns, are not accessible to them for two main reasons; firstly their parents cannot afford to pay for lodgings near colleges and secondly their parents do not have the confidence in existing facilities near colleges to entrust their daughters to be away from home.
The model which allowed these girls to pursue a secondary education is simple but powerful. A British charity, 'Education for All', facilitates access to secondary education for girls from remote villages by providing a boarding house in which they can live during the week while attending school. The provision of a safe and supportive "home away from home" means that the girls have the opportunity to continue their education. This simple solution does not cost a great deal of money but opens up a whole new world of opportunity to young women. It is a model that could be replicated across Morocco.
For the British Embassy, this was a chance to celebrate the achievements of these girls, made possible in part by the support of a British organisation. Each of the new graduates received a certificate from the Ambassador to mark the occasion. Speaking at the event, Ambasador Clive Alderton said:
"Girls, with your education you can help your families; your communities and your country. You have the gifts you need to change the world for the better."
Published 27 June 2013