World news story
Supporting development of Vietnam's urban rail networks
Senior urban rail stakeholders from Vietnam visit the UK to gain experience developing major infrastructure projects using the PPP model.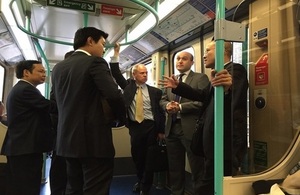 The visit takes place from 11 to 17 May and is part of a series organised by the British Consulate General over the past 2 years.
The delegation consists of 6 representatives from Hanoi's Metropolitan Rail Management Board and the Ho Chi Minh City's Management Authority for Urban Railways. They will visit several major UK rail projects, including the London Docklands Light Railway, which was delivered successfully under the UK's Public-Private Partnership (PPP) programme. They will also attend Railtex 2015, the UK's largest exhibition of the rail industry.
They will meet with Transport for London to see how they operate and manage an integrated rail network efficiently in a major city. Meetings are scheduled with several of the UK's leading experts in rail industry to learn about establishing new management centres. They will also discuss the day-to-day operation of the networks and how they integrate into other public transport facilities.
Opportunity for the UK
Infrastructure is a priority in Vietnam's Socio-Economic Development Plan.
2 major projects currently underway in Vietnam are the new urban railway networks in Hanoi and Ho Chi Minh City. They comprise of 5 overhead lines and 6 underground lines.
The London Underground has been in operation for over 150 years and continues to meet the needs of an ever expanding and dynamic city. This experience positions the UK as an ideal partner for supporting Vietnam's ambitious infrastructure development plans.
Published 12 May 2015