Press release
Supporting businesses access funding in Wales is key, says Welsh Secretary following Business Advisory Group meeting
Access to finance and collaboration between business and higher education institutions topped the agenda at the latest meeting of the Secretary of State for Wales's Business Advisory Group (9 July 2013).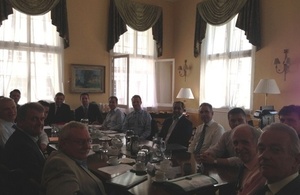 Representatives from companies including General Dynamics, Dragon LNG, Toyota, and Airbus gathered for a round table discussion on the current business environment, and their response to the current economic challenges at the Wales Office's Whitehall headquarters.
The group was given a presentation by officials from HM Treasury on access to finance for businesses in Wales. From funding for lending, to the work of the business bank, delegates were given an overview of the current schemes available to them to help drive forward growth in Wales.
Professor Michael Scott from Glyndwr University later led discussions on opportunities to develop stronger links between business and higher education. The group heard how research expertise developed in universities can be applied locally and nationally to create jobs and attract investment.
Secretary of State for Wales, David Jones said:
Moving from rescue to recovery is this Government's number one priority, and today's meeting has once again provided an excellent platform to hear first hand how Welsh businesses are faring in the current economic climate.
I was particularly pleased to have the opportunity to welcome colleagues from HM Treasury and Professor Michael Scott, who were able to offer fresh insight into the work being done elsewhere in Government and the higher education sector to support businesses.
Having recently seen the collaboration between Swansea University and Tata Steel on the SPECIFIC project, I am a firm believer that universities and businesses working together can really drive our economy forward. The closer the links between the two sectors, the more extraordinary and exciting the results.
Professor Michael Scott said:
Universities need themselves to think 'lean' not just in their own internal management and operation but in their interaction with Business and Industry. It is here that meaningful partnership with business stakeholders becomes a challenge to them. Their role in wealth creation cannot be seen as being solely a 'driver' but to be organisations that themselves are 'driven' by the requirements of the economy and the corporate ownership of their regional and national stakeholders.
Glyndŵr University wishes to become an indispensable partner in the economic and social development of its region and country. Its challenge is to deliver what it advocates for both whilst expanding elsewhere".
Wales Office Minister, Stephen Crabb, was also on hand at the meeting to outline the outcomes of the first Wales Office Infrastructure Working Group meeting. Last month, senior officials from Welsh industry, the UK Treasury and the Welsh Government joined the Secretary of State and Mr Crabb, to explore the key priorities for infrastructure development with a view to boosting the Welsh economy.
Secretary of State for Wales David Jones added:
This was the first gathering of the Business Advisory Group since the recent UK Government announcements on spending and infrastructure. The decisions we have taken show that this Government is committed to strengthening the Welsh economy, and accelerate major infrastructure investment.
Today, businesses have had the opportunity to hear how taking advantage of financial support available through UK Government initiatives and working across sector boundaries can open the door to new ideas, markets and growth, and be a vital new component in delivering a successful Welsh economy.
Published 9 July 2013
Last updated 15 July 2013
+ show all updates
Added translation
First published.