Support to tackle female genital mutilation
New guidelines will help frontline professionals such as nurses, doctors, teachers and social workers identify and prevent Female Genital Mutilation (FGM), equalities minister Lynne Featherstone announced today.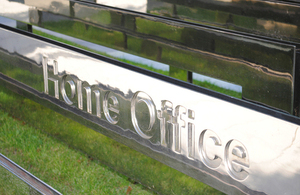 The guidelines, issued by the government to chairs of Local Safeguarding Children's Boards, Directors of Children's Services and Regional Directors of Public Health, will help professionals identify women and girls at risk and set out the practical steps that can be taken to protect them.
Speaking at a recent roundtable with local teachers, nursing staff, police officers, community leaders and survivors of FGM, Lynne Featherstone set out her vision for how central and local government, frontline staff and communities can all work together to end the cruel practice.
Lynne Featherstone quote
Minister for equalities Lynne Featherstone said: 'I have seen first hand the effect this abhorrent crime can have on women and girls. This government is determined to put an end to it. 
 
'The guidelines published today will help local authorities, charities and communities work together to prevent women and girls being subjected to this terrible abuse, and that those who have already suffered are given the appropriate care and support.'
Survivor's quote
Hagir Ahmed survivor of FGM and Manor Gardens Advocate: 'I had the experience at the age of five or six. When you are a child you usually don't remember things at that age but I remember. I remember being at a party and the people holding me down. My legs. My hands. My knees. And then I remember the practitioner with the knife.
'I don't remember any anaesthetic. I just remember crying, crying and pleading. I was completely shattered, emotionally and physically.'
Joy Clarke, lead specialist midwife at Whittington Hospital: 'When people migrate they take their customs with them and FGM is practiced in communities to keep those communities together. Because they love their children they continue to do it.
'Organisations like the Manor Gardens Advocacy Project are already doing good work to educate communities. I work with Manor Gardens to go out and run workshops with social workers and teachers in practising communities so they can recognise if a child is at risk. And I talk to parents about the physical and mental health implications and the law. In 99 per cent of cases this makes a difference but we need to revisit the families to make sure they have understood.'
Health minister Anne Milton said: 'FGM is an extremely harmful practice that can cause long term psychological and physical harm, difficulty in giving birth and even infertility.
'These guidelines will help make sure that healthcare professionals are aware of the signs, symptoms and cultural issues that put women and girls at risk from this unacceptable practice. It will also help them to provide the most appropriate and sensitive care.'
The guidelines have been developed across government departments in partnership with the Royal Colleges, FGM experts, charitable organisations and the Association of Chief Police Officers.
They will support frontline practitioners such as nurses, doctors, teachers and social workers to:
identify and prevent further incidents
ensure that victims and potential victims receive the response and support they need
provide a step-by-step practical guide to sensitively handling cases of FGM
Notes to editors
FGM - the facts
FGM includes procedures that intentionally alter or injure female genital organs for non-medical reasons
The procedure has no health benefits for women and girls
Procedures can cause severe bleeding, problems urinating, and later, potential childbirth complications and newborn deaths
It is mostly carried out on young girls sometime between infancy and age 15 years
An estimated 100 to 140 million women and girls worldwide are currently living with the consequences of FGM
In Africa an estimated 2 million girls are subject to FGM each year
In the UK an estimated 20,000 girls under the age of 15 are at serious risk of FGM each year, and 66,000 women are living with the serious consequences of the procedure
It is illegal to practice FGM in the UK
The Law
The Female Genital Mutilation Act was introduced in 2003 and came into effect in March 2004. The offence attracts a penalty of up to 14 years in prison and/or an unlimited fine.
Under the Act it is an offence in England, Wales and Northern Ireland for anyone (regardless of their nationality and residence status) to:
perform FGM in the UK
assist the carrying out of FGM in the UK
assist a girl to carry out FGM on herself in the UK
assist from the UK a non-UK person to carry out FGM outside the UK on a UK national or permanent UK resident
It is also an offence for UK nationals or permanent UK residents to:
perform FGM abroad - even in countries where the practice is legal
assist FGM carried out abroad by a UK national or permanent UK resident - this would cover taking a girl abroad to be subjected to FGM
assist FGM carried out abroad by a non-UK person on a girl/woman who is a UK national or permanent UK resident - this would cover taking a girl abroad to be subjected to FGM
assist a girl to perform FGM on herself outside the UK
Due to the hidden nature of the crime, FGM's prevalence is difficult to estimate. However the report 'A Statistical Study to Estimate the Prevalence of Female Genital Mutilation in England and Wales' published by FORWARD in October 2007 estimates that over 20,000 girls in England and Wales are at serious risk of abuse each year, and there are already 66,000 women living with the physical and mental health consequences of the practice.

The roundtable was held on Thursday 17 February at the FGM Forum, a quarterly event run by the Manor Gardens Centre, a charitable organisation that provides services to improve the health and well-being of people in Islington and neighbouring boroughs, and brings together and trains the broad range of professionals needed to tackle FGM effectively.

The guidelines have been produced in a multi-agency format to reflect the need for a multi-agency response when handling cases of FGM. The Department of Health, Foreign and Commonwealth Office and Department for Education were directly involved in shaping the draft along with frontline workers themselves and experts in the field of FGM.
Sections of the guidelines are taken from the Royal College of Nursing's FGM educational resource. The London Safeguarding Children's Board FGM toolkit and the Metropolitan Police Service's FGM Standard Operating Procedures.
They are available on the Foreign Office website: http://www.fco.gov.uk/resources/en/pdf/travel-living-abroad/when-things-go-wrong/multi-agency-fgm-guidelines.pdf
To request an interview with Hagir Ahmed please contact Hekate Papadaki, Manor Gardens Advocacy Project Manager, 020 7281 7694, Hekate@manorgardenscentre.org.

For media enquiries only please contact the Home Office Newsdesk on 0207 035 3535
Published 24 February 2011