Press release
Support for vulnerable women and taxpayers in court fees changes
People taking high value cases through civil courts in England and Wales will be expected to pay much more towards their running costs, Courts Minister Shailesh Vara has announced - while the fees for domestic violence injunctions will be scrapped.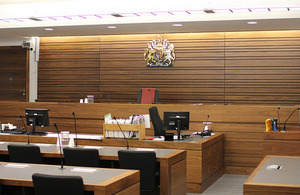 Changes to the fees charged for using civil courts will mean hard-working taxpayers will no longer be left footing so much of the bill for operating them. At present around £100m of running costs have to be found from general taxes each year.
Under the new proposals put out for consultation today, the fees for civil courts (not criminal courts) will be adjusted to address the shortfall.
The proposals include:
Scrapping the £75 application fee for domestic violence injunctions which will help thousands of women seeking non-molestation and occupation orders. More than 20,000 applications were made in 2012.
Increasing the fees for cases involving claims for money (for example when someone makes a claim for compensation) on a sliding scale, with a maximum fee of £1,870 - and considering moving in future to a system where the fee is calculated as a percentage of the amount under dispute in the court case.
Introducing a percentage-based system for commercial proceedings (where businesses dispute whether a contract has been fulfilled and seek settlements) as well as charging a daily rate for the time they spend in court.
Introducing a standard fee of £270 for civil cases which are not about claims for money (applying for someone to be declared insolvent or to repossess property for example) - instead of the current mixture of fees.
Fees would stay the same for cases involving sensitive family issues including child contact, divorce financial disputes and adoption applications - as well as a reduction in the fee for local authorities to apply to take a child into care.
The proposed fees have been set at a level which will ensure the UK's world leading legal services remain the most attractive to international clients. The sector is playing a key part as the UK continues to win in the global race.
Courts Minister Shailesh Vara said:
"We have the best court system in the world and we must make sure it is properly funded so we keep it that way.
"Hard-working taxpayers should not have to subsidise millionaires embroiled in long cases fighting over vast amounts of money, and we are redressing that balance.
"Vulnerable groups must also be protected, which is why we are keeping the fees the same for sensitive family issues including adoption applications and child contact and scrapping the application fee for victims of domestic violence seeking injunctions to protect themselves."
People who cannot afford court fees do not have to pay - they can apply for waivers using the means-tested remissions system.
The consultation will run until 21 January 2014. Government expects to make changes to the fees, depending on the outcome of the consultation, in Spring and Summer 2014.
Notes to editors:
Details of all of the current and proposed fees are included in the consultation document Court Fees: Proposals For Reform.

The overall running costs for civil courts in England and Wales was £600m in 2012/13.

The fees will remain unchanged for adoption applications (£170), child contact applications (£215) and divorce financial arrangements (£255). They will be reduced for applications to take children into care from £5,475 (application and hearing fees) to £2,000.

View details of the fee remissions system.

For more information contact the Ministry of Justice press office on 0203 334 3536. Follow us @MoJPress.
Published 3 December 2013