Support for UK salad growers affected by e.coli scare
Scheme guidance and all forms are available on the RPA website.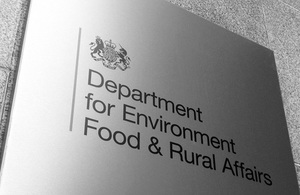 UK growers must act quickly to apply for support under the new EU scheme to compensate them following the market disruption caused by the German e.coli outbreak and the ongoing Russian trade ban.
The scheme, worth €210 million across the EU, is open to growers of tomatoes, lettuce, endives, cucumbers, sweet peppers and courgettes and provides aid for growers whose produce has been withdrawn from sale or has not been harvested.
Agriculture Minister Jim Paice said:
"British salad growers are facing a tough time through no fault of their own and I urge those affected to act quickly. This funding is only available for a very limited time and it's vital that UK producers don't miss out."
The scheme applies to products withdrawn from sale between 18 and 30 June 2011. The deadline for applications is 6pm on Thursday 30 June 2011.
RPA will provide information about the quantities of products withdrawn in the UK to the European Commission on 18 July 2011. The Commission will then use this information to determine whether the total number of applications fall within the financial limit set for these measures.
Any products notified for withdrawal will be subject to checks, which may be unannounced. Checks will include ensuring marketing standards are met, weighing and sampling, and will cover produce in the field as well as harvested produce.
Growers will need to retain produce for inspection until 6pm of the next working day following notification, unless otherwise advised by RPA.
Notes
Scheme guidance and all forms are available on the RPA website at rpa.defra.gov.uk.
Lines are open 8.30am to 5pm Monday to Friday. For queries contact RPA on 0845 053 9103 or visit the website or email F&VWithdrawals@rpa.gsi.gov.uk.
Growers wanting to notify their wish to withdraw products, need to submit a form HOR7A, Application for Withdrawals, which is available on the RPA website at rpa.defra.gov.uk. Anyone without web access can obtain copies of the form from RPA by fax to 0191 226 1081.
Anyone wishing to receive payment from this scheme will need to be registered with RPA. Those not registered with RPA, and not a member of one of the recognised Producer Organisations, will need to register as a trader, be allocated a trader registration number and provide bank details for the payments. To register with RPA call 0845 053 9103.
Growers can apply under this scheme (using form HOR7A) even though they are not registered as they can still notify RPA and action withdrawals while in the process of registering.
If necessary, to ensure the financial limit is not exceeded across the EU, the Commission will determine an allocation coefficient to reduce the total aid, on a pro rata basis.
Rates of aid to be applied in the UK, the maximum amounts of additional Union support for market withdrawals as referred to in Article 4(5) of Regulation 585/2011, are:
Product Maximum support (EURO/100 kg)
Tomatoes 33.2
Lettuce  and curled-leaved and broad-leaved endives 38.9
Cucumbers 24.0
Sweet peppers 44.4
Courgettes 29.6
Published 20 June 2011