News story
Support for small businesses in taking on apprenticeships
Following today's publication of the Holt Review, government will bring in new measures to aid businesses in recruiting apprentices.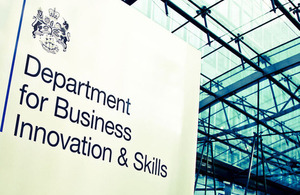 29 Aug 2012
---
---
Jeweller and social entrepreneur Jason Holt was commissioned in February this year to review ways to make apprenticeships simpler and more accessible for small and medium businesses.
Read Jason Holt's full report. (PDF, 458 Kb)
The BIS Blog: Apprenticeships an excellent way to turbo-charge your business
His research pointed to a lack of awareness about the benefits of taking apprentices on, and how to recruit and train them.
On publication of his report, Mr Holt said:
"Whilst apprenticeships offer undoubted growth opportunities for businesses, not enough SMEs are taking advantage.
"This is because they have an outdated view of apprenticeships, are often in the dark, and frequently do not receive the specific training provision their apprentices need.
"My recommendations are intended to address these issues with government, employers and providers all playing a part."
Find out more about the business benefits of hiring an apprentice.
Skills Minister John Hayes today welcomes the findings, and outlines new measures to improve apprenticeships for SMEs. These include:
Improving communication about schemes through groups who advise small and medium employers, including lawyers and accountants.
Better information for businesses on getting the right type of training for their apprentices.
New standards for training providers in order to improve their performance.
Improving the Apprenticeship Grant for Employers, making it simpler and more accessible.
Revisions to the Apprenticeship Grant for Employers (AGE)
The scheme provides up to 40,000 grants of £1500 to encourage and support employers taking on a young apprentice aged 16 to 24.
Changes to the £1,500 Grant will include delivering it in a single payment, rather than the current two.
Employers will be able to claim grants for up to 10 apprentices, and the scheme will be opened to employers who have not hired an apprentice in the past year.
The Grant will be made available to businesses with up to 1,000 employees.
Skills Minister John Hayes announced the government's response on a visit to Lincoln's PK Automotive, which is taking on its first apprentices.
Business owner Paul Killingsworth said: "My apprentices, along with my trained technicians, are an investment in the development and future of my business."
Links
Published 29 August 2012