Press release
Support for further education sector to develop maths teachers of the future
Government launches scheme to help raise maths standards of young people and adults by investing in the teachers of the future.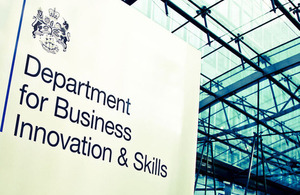 The government is today (27 August 2014) launching a scheme to help raise maths standards of young people and adults by investing in the teachers of the future. The initiative will see further education colleges and providers given grants to support training of maths graduates employed to teach the subject at GCSE level and above.
The initiative is specifically designed to help colleges and providers with the training of graduate maths teachers who are completing their teaching qualifications while working in the classroom, reflecting the further education sector's preferred method of training new recruits while they teach. Colleges and training providers will be able to apply for a payment of £20,000 per graduate trainee and will be given the freedom and flexibility to provide the support and training that best meets the needs of each graduate.
Commenting on the launch of the scheme, Skills Minister Nick Boles said:
Maths is essential for any job, that's why we are committed to getting the basics right and ensuring that all learners are able to develop these vital skills. Over the next 2 years we are investing more than £30 million to raise the quality and quantity of teaching in further education. This scheme will give the sector the knowledge and confidence to deliver excellent maths teaching and has been designed to give colleges and providers the freedom to train their new teachers in the most effective way possible.
The government has outlined its commitment to improving the quantity, quality and professionalism of specialist teachers and trainers, especially in maths as part of the Further Education Workforce Strategy, published in July of this year (2014). Today's scheme will work alongside existing programmes - including the previously announced Golden Hello initiative for new graduate maths teachers - and will support the move for GCSEs to become the standard qualification in post-16 education from 2015 onwards.
Interested colleges and providers will be able to apply online for the support from the 1st September 2014 until 31 July 2015.
Helen Pettifor, Director of Professional Standards and Workforce Development at the Education and Training Foundation said:
People join this sector from many different industries and training on the job is an important route for colleges and training organisations looking to qualify new teaching staff. This scheme will really complement the work we are doing at the Education and Training Foundation- our FE Advice helpline receives many calls from people interested in teaching who want to learn on the job.
Joy Mercer, Director of Policy at the Association of Colleges, said:
One of the best ways of increasing the number of maths teachers who can teach students who haven't got GCSE grade A* to C, is to provide training on the job. We are very pleased that colleges will have a resource they can use to ensure that potential maths teachers have the best possible programme of training while they are also developing their skills in the classroom.
Notes to editors
Details of the scheme and how to apply are available online at Funding for in-service Maths teacher training in FE guidance.
The scheme will provide employers with £20,000 for each graduate trainee who is employed and commences their initial teacher training between 1 Sept 2014 and 31 July 2015.
The scheme will be made available to publicly funded colleges and independent Further Education (FE) providers that employ a graduate to be trained through an 'in-service' teacher training programme. Only publicly funded FE employers can apply, not trainees.
Training programmes must lead to the award of a recognised teaching qualification for FE and enable the teacher to teach maths to at least GCSE level.
The scheme allows colleges and providers to determine whether they provide in-house training, commission the training through a third party or choose a mixture of the 2.
Employers who have 65% or more of their classroom-based adult (19 years old and above) learners attracting disadvantage funding from the Skills Funding Agency in the 2013 to 2014 academic year will receive an additional £2000.
The scheme is additional to other incentives announced in the FE workforce strategy which is available to view online at Further education workforce strategy. The strategy, published in July 2014, sets out the government's commitment to improving the quantity, quality and professionalism of teachers in FE.
A Golden Hello Scheme for new graduate mathematics teachers in FE was announced earlier this year to support the recruitment and retention of good mathematics teachers. The scheme provides a one off payment of up to £10,000 made after completion of the second year of employment for graduates who are newly qualified teachers and have undertaken a mathematics ITT programme allowing them to teach in FE.
It is a condition of funding from academic year 2014 to 2015 for all students on 16 to 19 study programmes to study maths and or English unless they have at least a grade C GSCE. This scheme is designed to work alongside others to address the resulting need for more maths teachers equipped with the skills to teach the subject at GCSE level and above. More information on the condition of funding for post-16 students without GCSE grade C in maths and/or English is available online at Maths and English conditions of funding post 16.
Published 27 August 2014