News story
Supply chain encouraged to find innovative decommissioning solutions
We want to work with you to develop innovative solutions for a range of challenging projects, companies were told yesterday at Dounreay's annual supply chain event.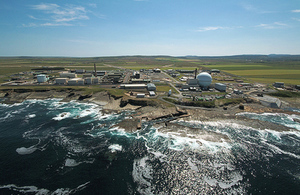 They were listening to DSRL Managing Director Mark Rouse outline a number of major projects designed to retrieve, treat and store Dounreay's historic waste.
The supply chain event was held in Thurso, and this year attracted 77 companies interested in working with DSRL to decommissioning the redundant nuclear experiment at Dounreay.
Decommissioning projects include ones to retrieve historic higher activity waste from the shaft and silo, to repackage it for safe long term storage.
The shaft and silo headworks, the higher activity waste store extension for the cementation plant and the second phase of the low level waste vaults are expected to cost in the region of £60m.
Mark emphasised the importance of finding innovative solutions to decommissioning challenges.
"Dounreay has a long history of finding ways to use technology from other industries to help it clean up the site" he said.
"Innovation helps us to save money and work smarter".
The presentation has been now been posted online.
Published 27 February 2015