World news story
'Super Premium Whisky' tasting in Guatemala
The UK Embassy and "The Macallan" distributors in Guatemala organised a whisky tasting event for guests at the British Residence.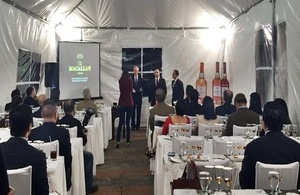 The sampling event was an opportunity to learn more about Single Malt Scotch Whisky, which is distilled at a single distillery from water and malted barley without the addition of any other cereals. Each single malt whisky has its own unique taste, which differs subtly from distillery to distillery. And the taste is very different from that of blended whiskies, which is the form of whisky which is most commonly available in shops.
Founded in 1824 in the heart of Speyside, The Macallan was one of the first distilleries in Scotland to be legally licensed. Since then it has built a reputation for producing one of the world's leading single malt whiskies.
The tasting was led by Joe Cabassa, Brand Ambassador for The Macallan in Latin America. Cabassa has performed more than 4,000 tastings around the world and holds an "Award in Spirits" certification from the Wine and Spirits Education Trust (WSET). Special guests, politicians, businessmen and journalists, amongst others, enjoyed the flavour of three different premium varieties of The Macallan.
In 2015 the Scotch whisky generated almost £4 billion in exports for the UK economy, which equals to 38 bottles being shipped overseas each second. The whisky industry also accounts for more than 10,000 direct jobs in the UK. It is also a product that is gaining more spaces in Latin America every year. The UK exported to Guatemala £3.5 million worth of whisky in 2015, the largest market in Central America, according to Britain's Scotch Whisky Association (SWA).
To mark the event, British Ambassador to Guatemala, Thomas Carter, said:
I am very pleased we had a chance to taste some of the greatest examples of single malt Scotch whisky. Scotch whisky, as its name suggests, comes from Scotland, but represents the whole of the UK, demonstrating our long history and fine traditions. I am happy Guatemala is a growing market for this iconic, high quality product. I also would like to thank The Macallan and Distribuidora Alcazaren for putting together such a magnificent event.
Published 14 June 2016