News story
Summer time begins
Notes to editors: The 9th EC Directive on summer time harmonised, for an indefinite period, the dates on which summer time begins…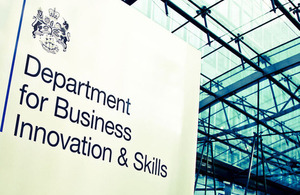 Notes to editors:
---
The 9th EC Directive on summer time harmonised, for an indefinite period, the dates on which summer time begins and ends across member states as the last Sundays in March and October respectively. Under the Directive, summer time begins and ends at 1.00 am GMT in each Member State. Amendments to the Summer Time Act to implement the Directive came into force on 11 March 2002.

Time zones are the responsibility of individual Member States and vary across the EU. The UK has no current plans to move to Central European Time.

BIS's online newsroom contains the latest press notices, speeches, as well as video and images for download. It also features an up to date list of BIS press office contacts. See http://www.bis.gov.uk/newsroom for more information.
Notes to Editors
Contact Information
Name BIS Press Office Job Title
Division COI Phone
Fax
Mobile
Email NDS.BIS@coi.gsi.gov.uk
Name Henry Tanner Job Title
Division Department for Business, Innovation and Skills Phone 020 7215 5947 Fax
Mobile
Published 23 March 2012