News story
Summer Series of athletics launches on Olympic Park
World-class events taking place in Birmingham and London.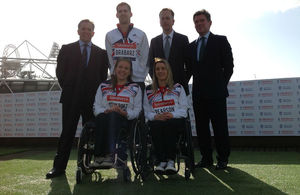 Sports Minister Hugh Robertson was at the Queen Elizabeth Olympic Park today to launch a series of world-class athletics events happening in the UK this summer.
The Sainsbury's Summer Series will feature two International Association of Athletics Federation (IAAF) Diamond League events, the final of the International Paralympic Committee (IPC) Grand Prix Series and a one-off IPC International Challenge.
The series will culminate with the Sainsbury's Anniversary Games at the Queen Elizabeth Olympic Park in London on 26-28 July.
The support that Sainsbury's is offering the Anniversary Games is just part of their ongoing support for sport in the UK. They are also headline sponsors for the School Games, which is a multi-sport event taking place from 12-15 September 2013 in Sheffield.
Gold medal attendees
London 2012 Olympic Gold medallists Mo Farah and Greg Rutherford are the first to confirm their attendance in Birmingham in June.
Hugh Robertson said: "The London 2012 Olympic and Paralympic Games underlined the passion our nation has for sport and getting behind our inspirational athletes. I'm sure the Sainsbury's Summer Series will receive the same level of support from the British public, making them a great spectacle and building on the success of last summer."
Tickets go on sale on Friday 19 April to pre-registered fans. For more information visit the British Athletics Website.
Further Information
Published 15 April 2013