Press release
Summer crackdown on illegal fishing
Environment Agency Fisheries Enforcement Officers deal with 18 people for offences in the North East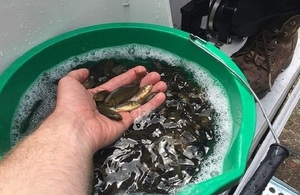 The Environment Agency is cracking down on illegal fishing in the North East as the summer season reaches full swing.
Over the past four weeks, Fisheries Enforcement Officers have dealt with 18 people for a number of offences.
Patrols have been targeted at local rivers and stillwaters based on intelligence gathered and reports from the public, with Derwent Valley, Willington and Durham receiving particular attention.
Officers deal with 18 people
On the River Derwent, one man was reported for unlicensed fishing and three men from South Tyneside arrested for poaching with a net.
In the Durham area, five anglers were reported for fishing without a licence, a further four were unable to produce a licence, one angler was reported for multiple offences of unlicensed fishing, failure to return foul hooked fish and theft, and another reported for theft.
At Willington, one angler was reported for unlicensed fishing. Two other anglers who left the area without providing any details were traced and subsequently dealt with for suspected unlicensed fishing, failure to give their details, and obstruction.
Vast majority of anglers fish legally
Kevin Summerson, Fisheries Enforcement Technical Specialist at the Environment Agency in the North East, said:
The vast majority of anglers fish legally, respecting each other and the sport. The money they pay for a rod licence goes back into supporting fishing, and protects the future of the sport.

Sadly there is a small number of anglers who cheat others by not buying a licence or poaching on our rivers, damaging fish stocks and undermining others. These are the people we continue to target.

We work closely with the police and Angling Clubs to gather intelligence about illegal fishing, and respond to reports from the public, to ensure our patrols are targeted at the right places, and the right people.
It costs from just £27 for a full annual rod licence, with concessions available, and it's free for under 12s.
Fishing without a valid licence could lad you with a fine of up to £2,500 and a criminal record.
Money from rod licence sales is invested in fisheries and is used to fund a wide range of projects to improve facilities for anglers, including protecting stocks from illegal fishing, pollution and disease, restoring fish stocks through stocking, and improving habitat.
You can buy your rod licence online from the Post Office at your local Post Office branch, or by phoning 0344 800 5386.
The Environment Agency urges anyone to report illegal activity by phoning the Environment Agency Incident Hotline on 0800 80 70 60, or Crimestoppers on 0800 555 111. Calls can be anonymous.
Published 18 August 2016