Press release
Suffolk slurry pollution leads to fine
Slurry from a lagoon on a Suffolk farm polluted the River Yox in Suffolk for 10 kilometres.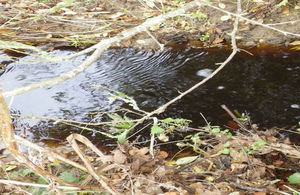 The Environment Agency told Ipswich Magistrates' Court yesterday (24 Nov) that the owners of the farm, Great Lodge Farm Ltd, had been negligent.
The company from Framlingham was fined £6,000 and ordered to pay £4,474 costs after pleading guilty to breaching environmental permitting regulations.
In December 2014 staff from the Environment Agency saw the river running dark brown and there was a slurry smell. They traced it to Bowling Green Farm at Sibton where slurry was being pumped from a storage lagoon into a ditch.
Pig muck was to be brought to the farm from another farm and was to be stored on a muck pad that drained to the slurry lagoon.
Ms Wendy Foster, prosecuting for the Agency, said that ammonia levels were elevated for 10 kilometres of the river.
She told the court that the checks carried out by the company, prior to ordering the discharge were insufficient.
Staff at the farm blocked the culvert with soil from the farm at the suggestion of Agency staff, the court heard, but by that time the river was already polluted.
A director of Great Lodge Farms Martin Kelleway told investigators that staff had not been able to spread the slurry because the fields were too wet so it had to be stored. The lagoon was full of what he thought was just rainwater so discharged it into the ditch to free up space for the muck pad being used.
Ms Foster told magistrates that slurry in the lagoon was grossly polluting and once discharged raised ammonia levels, in one tributary of the river, to 25.4mg/l. Typically, clean river water has ammonia levels of less than 1mg/l.
After the hearing Environment Agency officer Ben Marshall said:
Because slurry is potentially so polluting extra care needs to be taken in its storage and management.

The staff at this company failed their duty of care and this freshwater was grossly polluted. We hope that other similar operators will learn from this company's error.
The magistrates took into account that the company had no previous convictions, took immediate steps to mitigate the damage, had shown remorse and had not made or intended to make any financial gain.
The company pleaded guilty to: On or about 9 December 2014 you did cause poisonous, noxious or polluting matter, namely trade effluent, to enter inland freshwaters, namely the River Yox, at Sibton, Suffolk without being authorised by an environmental permit
Contrary to regulations 12(1)(b) and 38(1)(a) of the Environmental Permitting (England and Wales) Regulations 2010
Published 25 November 2015
Last updated 27 November 2015
+ show all updates
Photo added
First published.