Press release
Sue Husband takes up her new role at the SFA
Sue Husband has now taken up the post of Director of Apprenticeships and Delivery Service at the Skills Funding Agency.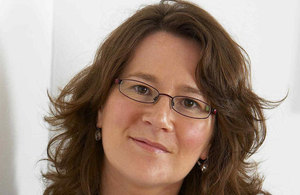 Sue is now responsible for leading the Apprenticeship and Delivery Service Division with a clear focus on:
engaging employers and employer groups to increase participation in apprenticeships and traineeships

providing expert advice and support to Local Enterprise Partnerships (LEPs), and other important local partners, on the funding and skills elements of local growth plans

encouraging colleges and providers to deliver more good quality apprenticeships and traineeships, and intervening in cases of failure or high risk

delivering high quality National Careers and Apprenticeship Vacancy Services
Barbara Spicer, interim Chief Executive of the Agency said: "I am absolutely delighted to be able to welcome Sue to the SFA.
"Her wealth of private sector knowledge and experience will be a valuable asset to us, ensuring that quality and reform is driven forward in the sector.
Sue Husband said: "I am thrilled to be joining the organisation and I'm looking forward to meeting the team and getting to work.
"I want to support the ambitious reform agenda and work with the sector to continue to raise the profile of apprenticeships and traineeships whilst also promoting the benefits of these training opportunities and the success it can bring to individuals."
Notes to editors
Sue was previously Head of Education for the UK at McDonald's. Since joining McDonald's Restaurants Ltd in 1987, she worked in a variety of roles in Operations, Franchising, Communications and Training, working with both Company and Franchised restaurants.
Local growth plans demonstrate how local areas will tackle key priorities such as apprenticeships and skills to drive economic growth. The SFA is working with LEPs to ensure they can deliver these plans and secure future investment for the benefit of learners and local communities.
The Skills Funding Agency
The Skills Funding Agency is a partner organisation of the Department for Business, Innovation and Skills (BIS). Its job is to fund and promote adult further education (FE) and skills training in England, including traineeships and apprenticeships, in a way which supports economic growth.
Within the Skills Funding Agency, there are 2 customer-facing services: the National Apprenticeship Service, which is responsible for increasing the number of traineeship and apprenticeship opportunities, and the National Careers Service, which provides impartial careers information, advice and guidance online, by telephone or face-to-face.
Published 12 May 2014