Press release
Success for MCA in New Years honours list
Details of MCA staff and volunteers who received an award in the New Year honours list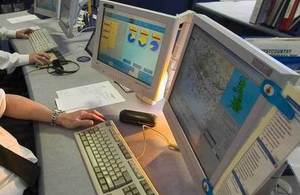 Kenneth Richards has given more than 45 years of commitment as a Coastguard Rescue Officer in Cornwall. He is the Station Officer with the Port Isaac Rescue Team, leading his fellow volunteers to carry out rescue missions in all weathers and often at unsocial hours. He's been awarded a MBE.
Kenneth, who lives with his wife in Port Isaac, North Cornwall said: "I consider it a great honour to receive this award in recognition of my work with the Coastguard Rescue Service. I wear the uniform with pride and I really love and live for Her Majesty's Coastguard. I receive this on behalf of my team, colleagues and all volunteers who give so much to make the Coastguard Rescue Service such a success."
Steven Dexter is an Evidence Analyst based at the MCA headquarters in Southampton. He receives a MBE for more than 27 years as a civil servant, 12 of those working for the MCA, and his work in particular on recreational water safety.
Steven, who lives with his family in Romsey, Hampshire, said: "I am delighted and extremely proud to receive this award. It is a great honour for me. I thoroughly enjoy my role in the Agency where I am surrounded by a team who all strive for safety at sea. I feel privileged that my work in this area makes a difference."
Jane Lee manages the UK Consolidated European Reporting System (CERS), an electronic information management system, and is recognised with a MBE for her tireless efforts with the ports industry that have significantly improved this vital information system.
Jane, who lives in Peterhead, Aberdeenshire, said: ""I am extremely proud and sincerely humbled to receive this award. I hope my personal recognition is also considered as a reflection of the commitment and tremendous work of all of the staff involved in this area of work."
Maritime and Coastguard Agency press office
Press enquiries 020381 72222 (Monday to Friday, 9am-5pm)
Outside these hours, for emergency press enquiries only please dial the above number. You will hear a message giving an out of hours pager number.
Published 25 February 2015