Press release
Study finds physically active children are happier and more confident
Change4Life and Disney's 10 minute shake up campaign launches with release of new study on the benefits of physical activity for children.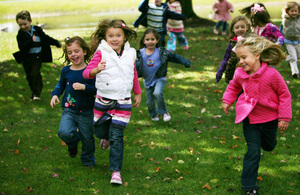 Today (2 July 2015) marks the launch of this year's 'Change4Life 10 minute shake up' campaign with Disney. The campaign aims to encourage children to do 10 minute bursts of moderate to vigorous activity, inspired by Disney characters, throughout the day, and every day, in order to meet the recommended 60 minutes of physical activity children need.
This year's campaign launches to coincide with the publication of an evidence review by British Heart Foundation (BHF) researchers from the University of Oxford and Loughborough University, which identifies the direct benefits that physical activity has on children in terms of their physical, social and emotional development.
The new review points to strong evidence that physical activity and sport has a positive impact on children's social skills and self-esteem. The evidence review also identified further social benefits for children as a result of physical activity including increased confidence and peer acceptance, alongside a link to friendship.
Review author Professor Charlie Foster commented:
The positives of exercise on children's mental wellbeing are less well known than the physical benefits. The evidence showed a strong link between physically active children and improved self-esteem, confidence, attention span and even academic achievements.
Over a third of children in the UK are overweight, yet 79% of parents with an overweight child do not recognise that they are, and of those that do, 41% do not realise that it is a health risk. Furthermore, parents tend to overestimate how active their children are. Change4Life with Disney aims to inspire children to get active using Disney characters and stories as encouragement.
New for this year's campaign, the Change4Life 10 Minute Shake Up game allows kids to join one of four Disney teams: Frozen, Toy Story, Monsters and Big Hero 6 and help their team win by doing as many 'shake ups' as they can every day.
To mark today's campaign launch, Change4Life and Disney are hosting England's largest ever interactive PE lesson. An exclusive 10 minute shake up will be available to schools from 9am on Thursday 2 July. The film stars Ricky Wilson, Kaiser Chiefs frontman and TV judge on 'The Voice' who is also a keen runner and fitness enthusiast. Ricky will guide children through a 10 minute shake up game inspired by the moves of Disney characters from the shake up teams.
This is the second year that Change4Life has teamed up with Disney. Last year's campaign resulted in the nation's kids being active for an extra 104 million minutes of the summer.
Professor Kevin Fenton, National Director of Health and Wellbeing at Public Health England (PHE), commented:
Levels of childhood obesity are unacceptably high – currently 1 in 5 primary school children is overweight or obese. This latest review reinforces the essential health and wellbeing benefits of being physically active. Breaking up the 60 minutes of physical activity that children need each day into 10 minute bursts will be more appealing and manageable for children and parents alike.
Public Health Minister, Jane Ellison, said:
Exercise is really important for children, and it's vital that we encourage them to form healthy habits to last throughout their life.

The 10 minute shake up programme is great for introducing children to manageable, bite-size chunks of activity – and, best of all, it's fun. With the summer holidays coming up, it's ideal for parents and children to get active together.
Marianthi O'Dwyer, Vice President and Head of Living Well at Disney UK and Ireland said:
Following on from the success of last year's campaign, we're excited to be partnering with Change4Life for a brand new 10 minute shake up. This year children will have the chance to join 1 of 4 Disney-themed teams, which we hope will inspire them to get even more active this summer.

Disney's stories are experienced and enjoyed by children around the world, so we believe we can have a positive influence. Our partnership with Change4Life is part of Disney's commitment to use our stories and characters to inspire and encourage life-long healthy behaviours in families.
Background
For further information about the Change4Life 10 minute shake up campaign please contact the PHE press office on 020 7654 8400, email phe-pressoffice@phe.gov.uk or Change4LifePressOffice@freuds.com or out of hours telephone 020 8200 4400.
More assets, including images, videos and press materials are available in the online Change4Life media hub. Password: exercise
To sign up for the Change4Life 10 minute shake up campaign or to view this year's games and content, search 'Change4Life' or ask the Change4Life press office for more information.

Schools are being invited to take part in England's largest interactive PE lesson. Visit the Change4Life Vimeo page or search 'Change4Life and schools': video is available from 9am on Thursday 2 July.

The Change4Life 10 minute shake up campaign launches on 2 July 2015 and continues until August 2015.

In England, 79% of boys and 84% of girls aged 5 to 15 do not meet the current physical activity recommendations of 60 minutes each day. The worrying gap between boys and girls' activity levels can be seen from as early as 7 years old, which is often attributed to confidence issues and insecurities in body image for young girls.

Disney is providing its characters to feature alongside recognisable Change4Life animations to create exclusive content for schools, TV, print and online media and for face to face events with the aim of inspiring children to do as many 10 minute shake ups as they can each day.

Parents can search 'Change4Life' online to sign their children up and receive a free pack, which will include a team wristband with timer (while stocks last), activity cards and a team poster with stickers for children to chart their progress. There will also be lots more 10 minute shake up games, inspired by Disney characters, online.

This is the second year that Change4Life has teamed up with Disney, with last summer's campaign resulting in an extra 104 million minutes of physical activity undertaken by children over the summer holidays.

Ricky Wilson, lead singer of Kaiser Chiefs and TV personality commented:
Since taking up a much more active lifestyle, the benefits that I've gained have been endless, it has helped with everything from singing to performing and even just getting out of bed or going to the shops. I'm supporting this summer's Change4Life campaign, and have helped create my own 10 minute shake up game to help demonstrate the joys of being active and to ask parents to encourage their children to enjoy the many health and social advantages that come with doing the right amount of physical activity. I'm excited to see how it goes and just hope I can keep up with the kids.
PHE exists to protect and improve the nation's health and wellbeing and reduce health inequalities. It does this through advocacy, partnerships, world-class science, knowledge and intelligence, and the delivery of specialist public health services. PHE is an operationally autonomous executive agency of the Department of Health. www.gov.uk/phe. Follow us on Twitter @PHE_uk.

Dr Mike Knapton, Associate Medical Director at the BHF, said:
We know that children who lead an active lifestyle aren't just physically healthier but reap the benefits in many different aspects of their lives. In this new report, British Heart Foundation researchers at Oxford University have shown the true extent of these gains, from an increase in confidence and self-esteem to being able to forge successful friendships.

Getting active for short 10 minutes bursts every day can go a long way to improving a child's heart health and is a small change for a big gain! We hope this will inspire both children and parents to embark on a path to a healthier lifestyle and sign up to the Change4Life 10 minute shake up campaign today.
Public Health England press office
Published 2 July 2015