News story
Students to be talent spotted for engineering careers
The extension of the Talent Retention Solution (TRS) now means that students can sign-up to match their skills and experience to job vacancies…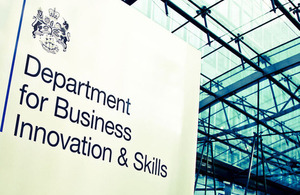 The extension of the Talent Retention Solution (TRS) now means that students can sign-up to match their skills and experience to job vacancies in the advanced manufacturing and engineering sector. This will help to encourage them to pursue careers in these sectors, rather than elsewhere.
Speaking ahead of the Confederation of British Industry's annual conference, Business Secretary Vince Cable said:
"Business and government are working hard together to solve the current shortage of engineers. The talent retention solution put in place by industry is an important part of helping to fix this by making sure the skills and experience of our engineers are not lost to other sectors such as financial services where jobs are in greater supply.
"I'm pleased that the scheme is being extended beyond those already established in the profession, to help engineering students and graduates get their big break. By matching people with real jobs, we are ensuring there is a pipeline of talented engineers of all levels plugging the huge demand for a skilled workforce in the sectors at the forefront of driving our recovery."
The Talent Retention Solution is an industry-led initiative and already has more than 2200 people signed up. It is hoped that students will take advantage of the chance to start their career in the engineering and manufacturing sector, and firms will be able to bring new and experienced talent to their industry for years to come.
Chair of the Skills and Jobs retention group Allan Cook the chairman of Atkins and Finmeccanica UK said:
"I continue to be encouraged and delighted with the excellent support for TRS across all engineering sectors. This is the first national system to support the redeployment and retention of engineering talent. The national scheme is completely self-funded and managed by industry.
"It is very clear that there is real demand for engineering skills in the market which is reflected in the success of TRS. The scheme has now been expanded to allow students to register and I hope that this enhancement will show that engineering can be a truly rewarding career. The ease of use and lack of red tape has an immediate benefit for small and medium firms, helping them to connect with the talent graduating from our world leading universities."
More than 500 companies are registered with the scheme, from international firms like Siemens, Airbus and Nissan to medium and small engineering companies in the supply chain which are often overlooked when graduates are looking for jobs.
In the coming weeks, the Talent Retention Solution will also be launching a new website, which will be much easier to use and make it even simpler for companies, individuals and students to sign up.
Notes to Editors
For more information on the Talent Retention Solution go to: http://www.talentretention.biz/

The Talent Retention Solution was originally established to match jobs with engineers leaving the defence sector but has quickly expanded to include the Aerospace, Automotive, Civil Engineering, Defence, Energy, Marine, Manufacturing, Nuclear, Power Generation and Renewable industries.

The TRS is a not for profit, industry-led, engineering sector initiative. The TRS sponsor companies include Rolls-Royce, BAE Systems, EADS/Airbus, Siemens, Shell, Nissan, and EDF.

The Government's economic policy objective is to achieve 'strong, sustainable and balanced growth that is more evenly shared across the country and between industries'. It set four ambitions in the 'Plan for Growth' (PDF 1.7MB), published at Budget 2011:
To create the most competitive tax system in the G20

To make the UK the best place in Europe to start, finance and grow a business

To encourage investment and exports as a route to a more balanced economy

To create a more educated workforce that is the most flexible in Europe.
Work is underway across Government to achieve these ambitions, including progress on more than 250 measures as part of the Growth Review. Developing an Industrial Strategy gives new impetus to this work by providing businesses, investors and the public with more clarity about the long-term direction in which the Government wants the economy to travel.

BIS's online newsroom contains the latest press notices and speeches, as well as video and images for download. It also features an up to date list of BIS press office contacts. See [http://www.bis.gov.uk/newsroom](http://www.bis.gov.uk/newsroom) for more information.
Notes to Editors
Contact Information
Name BIS Press Office Job Title
Division Department for Business, Innovation & Skills Phone
Fax
Mobile
Email bispress.releases@bis.gsi.gov.uk
Name Nick Evans Job Title
Division Department for Business, Innovation and Skills Phone 020 7215 3496 Fax
Mobile
Published 19 November 2012