Students tackle Europe's big issues at the Foreign Office
European Youth Parliament regional forum debates subjects from green industries to secularism.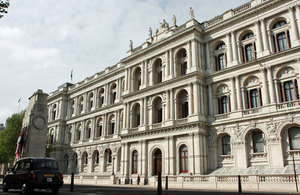 Over one hundred students from 11 UK schools debated European affairs at this year's South-East Regional Forum of the European Youth Parliament (EYP) on 8 March. The event took place at the Foreign & Commonwealth Office in Westminster, and was hosted by the Minister for Europe, the Rt. Hon. David Lidington MP.
Students had the opportunity to debate a whole range of European issues, from green industries and funding scientific research, to investment in culture, and secularism.
After several hours of lively and challenging discussions, a special jury voted on the students' debating skills and 4 schools - Queen Elizabeth's School, St Paul's School, City of London School for Girls and St Catherine's School - were selected to advance to the EYP UK nationwide finals later this year, where they will compete against other schools from across the country.
Speaking at the event, Minister for Europe David Lidington said:
"The European Youth Parliament is an excellent way to demonstrate to young people the involvement of the European Parliament in the big decisions facing Europe today. At the same time, students are able to test and further their debating skills in front of their peers. I am delighted to host this event, and very much hope it will encourage younger students to consider a career in the EU institutions, something which this government is actively promoting. I wish this year's South-East winners the best of luck in the nationwide finals."
Published 9 March 2011